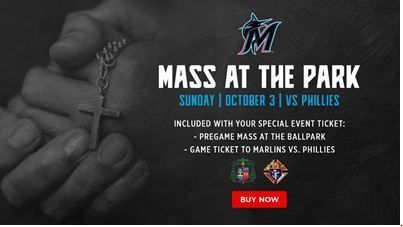 From the Miami Marlins:
We would love your parish's to bring a group and join us at Mass at the Park on Sunday, October 3rd. The ticket includes a pregame Mass led by Archbishop Wenski, a post-Mass concert performed by Gospel duo, Dupree, and a ticket to the game.
Our goal is to bring together the Florida Catholic community to celebrate the Word and enjoy the game.
Tickets to this event are $10 or $22, depending on seat location.
Click here to buy your ticket https://offer.fevo.com/phillies-at-marlins-8ix1gwb-fa9f22e?fevoUri=phillies-at-marlins-8ix1gwb-fa9f22e%2F