from Most Reverend Gerald M. Barbarito, D.D., J.C.L.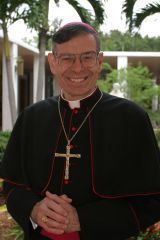 Welcome to the website of the Roman Catholic Diocese of Palm Beach! Whether you are searching for information about the diocese, the parishes and schools or about the Roman Catholic Church in general, I hope that our diocesan website will be of help to you.
The Diocese of Palm Beach is comprised of five counties in Southeastern Florida: Palm Beach, Martin, St. Lucie, Indian River and Okeechobee. From Sebastian to Boca Raton and from Palm Beach to Pahokee, the 241,100  Catholics of the Diocese of Palm Beach span the economic and cultural spectrum of the area and contribute to a rich and vibrant faith experience in our 50 parishes, 3 missions and 1 Hispanic Pastoral Center. 
Whether you are full-time resident, a part-time winter resident or a tourist visiting our area, I pray that you will enjoy your time in the Diocese of Palm Beach as you tour our website.
May Mary, Our Lady Queen of the Apostles, patroness of the diocese, guide us in the footsteps of her Son, Jesus Christ.

Sincerely Yours in Christ,
Most Reverend Gerald M. Barbarito
Bishop of Palm Beach
---
Statistical information about the Diocese of Palm Beach
| | | |
| --- | --- | --- |
| Parishes |         | 50 |
| Missions | | 3 |
| Hispanic Pastoral Center | | 1 |
| Diocesan Priests | | 108 |
| Religious Priests on Assignment | | 19 |
| Extern Priests with Faculties | | 49 |
| Permanent Deacons | | 95 |
| Religious Sisters | | 52 |
| Religious Brothers | | 4 |
| Seminarians | | 8 |
| High Schools | | 3 |
| Elementary Schools | | 12 |
| Private Elementary | | 2 |
| Pre-Schools | | 3 |
| Seminary | | St. Vincent de Paul Regional Seminary in Boynton Beach |
| Television Program | | "The Catholic Mass," Sundays at 10:30 a.m. on the WTVX CW34 Television (on most cable systems, it is on Channel 4). View more info. |
| Newspaper | | The Florida Catholic |
| Cemetery | | Our Lady Queen of Peace in Royal Palm Beach |