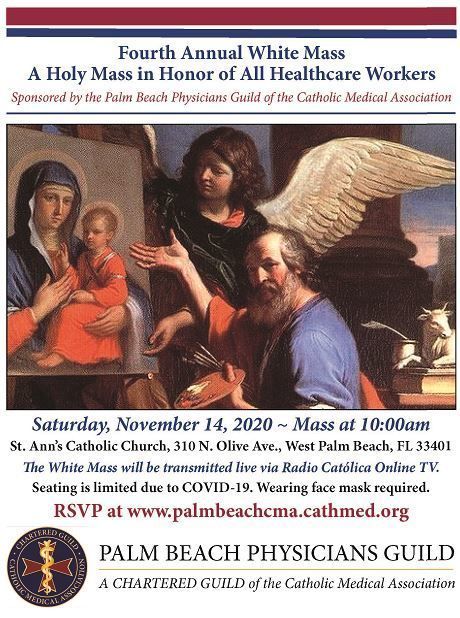 The Palm Beach Physicians Guild of the Catholic Medical Association is pleased to invite the faithful of the diocese to the fourth annual White Mass for physicians, nurses and allied healthcare professionals to be held at St. Ann Catholic Church in West Palm Beach, Nov. 14, 2020 at 10:00 a.m.
In order to maintain COVID-19 precautions, there will be no reception for fellowship after Mass as held in the past. All are requested to keep social distance and wear face coverings. To register for in-person attendance, please RSVP at Fourth Annual Palm Beach Physicians Guild White Mass.
The Mass will be livestreamed via Facebook @radiocatolicaonlinetv and on the corresponding YouTube page.
Email palmbeachphysiciansguild@gmail.com for more information.
The Annual White Mass is named for the white garb traditionally worn by physicians, honoring God, under the patronage of St. Luke, Physician and Evangelist, for the gift of the healing profession of medicine, a way in which Christ's Work continues upon the Earth.  The Mass is offered to ask God's Blessing upon the patient, doctor, nurse, and caregiver alike. The Liturgy includes the annual renewal of promises by the Catholic Physicians.