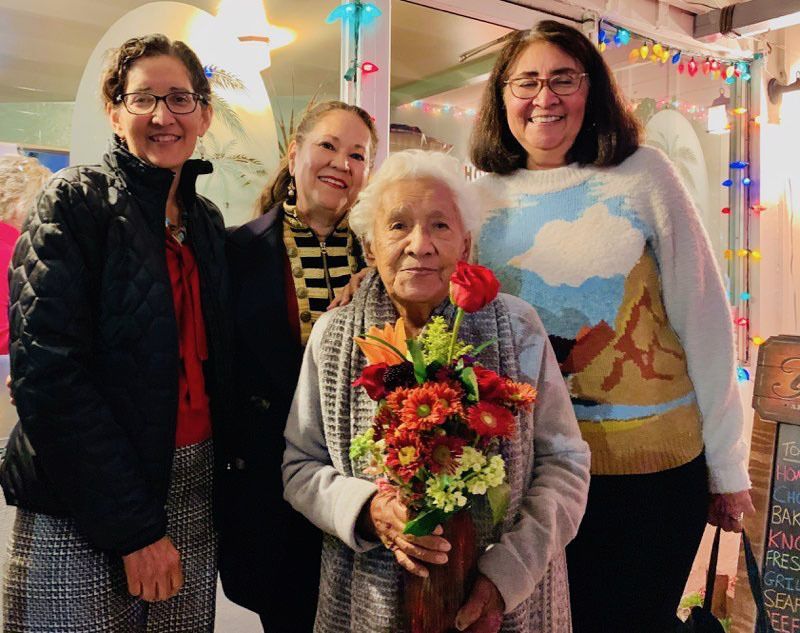 FORT PIERCE - When Frances (Mita) Hughes turned 100 years old in 2017, the entire St. Anastasia Parish community threw a party and shared a special Mass for the Fort Pierce resident. Since that celebration three years ago, Frances continues to faithfully serve the community even now at 103-years-old—a birthday she celebrated this December.  
Frances's life is one entwined in two cultures but, rooted in the Diocese of Palm Beach. In 1953, she arrived from Mexico to the United States as a new bride. Her and her husband Thomas, a tool engineer, lived in Miami but spent much of their time on weekends monitoring the groves they owned off Immokolee Road.
When the couple's eldest child reached school age, Frances and Thomas wanted her to attend Catholic school so, they moved to Fort Pierce to enroll her in St. Anastasia's first elementary class. After Thomas died unexpectedly in 1962, Frances raised the couple's four children alone.
Despite her own challenging situation, Frances kept an outward perspective and maintained an unwavering dedication to the community that supported her. Frances, a life-long educator fluent in Spanish, English, and French, became aware of how difficult it was for other Mexican families coming to the area in the late 1970s and '80s to learn the new language and navigate the culture.
She stepped in to try and help, eventually being contacted by the State of Florida to be the director of the Indian River Education Program, the first public partnership to create a migrant preschool program. The program, established in Fellsmere because of the large migrant population, initially served four-year-old students but, under Frances's direction, began accommodating older students and providing English language classes for parents and families in partnership with what was then Indian River Junior College.
To read the whole Florida Catholic Media article, click here.