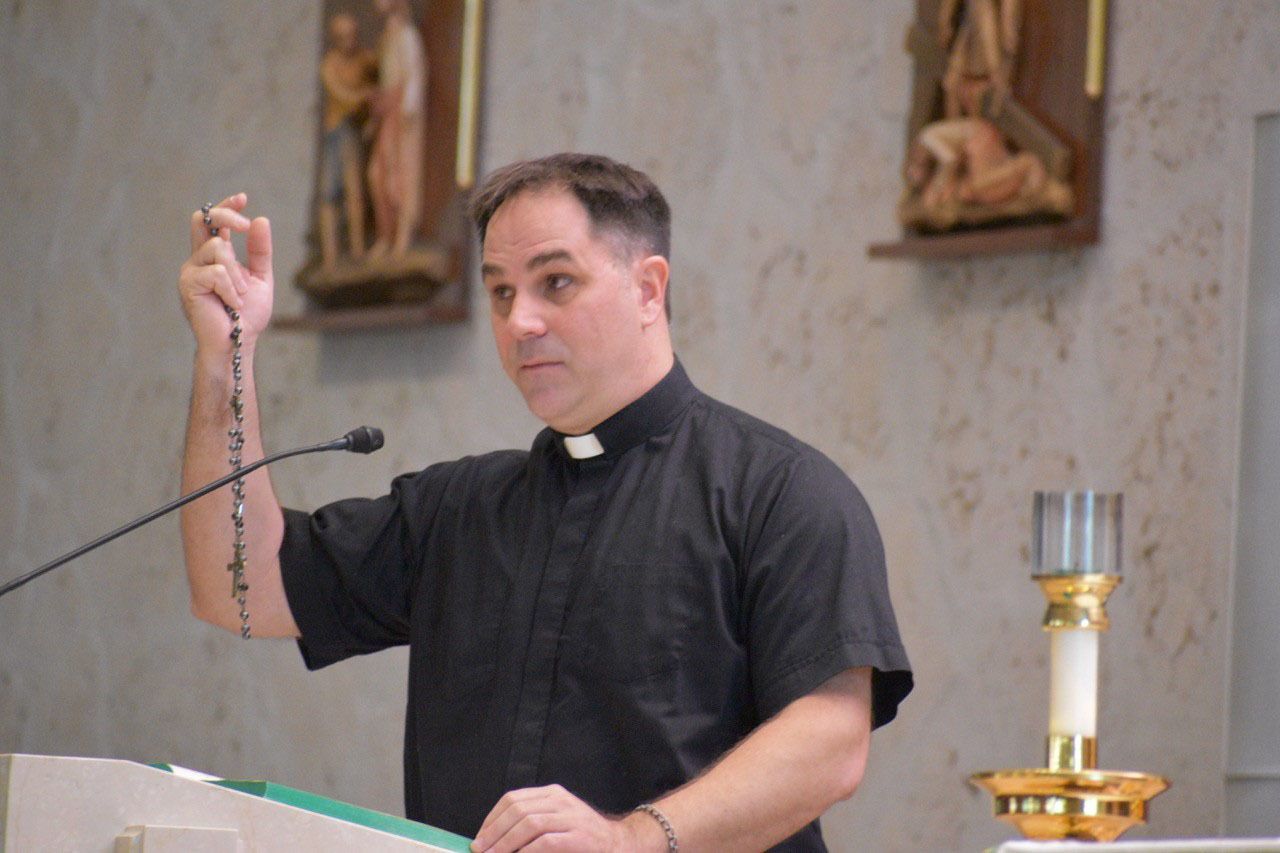 PALM BEACH GARDENS - The annual Catholic Men for Jesus Christ of Florida Men's Rally, which took place Jan. 16 at the Cathedral of Saint Ignatius Loyola in Palm Beach Gardens, was modified this year to adhere to COVID-19 health precautions and protocol. The Diocese of Palm Beach welcomed a limited number of attendees—all wearing masks and practicing social distancing—to a day of reflection and spiritual growth. The social gathering that typically follows the rally was cancelled this year but, that did not hinder the spirits among the men present.
Despite the restrictions, those at the Men's Rally were jubilant to hear the dynamic and inspirational speaker Father Donald Calloway, MIC, a nationally acclaimed Marian priest and author of articles and books on St. Joseph and the Blessed Mother. His latest books, "Consecration to St. Joseph: The Wonders of Our Spiritual Father" and "10 Wonders of the Rosary" reflect some of the themes touched upon in his presentation at the Men's Rally.
Father Calloway explained that on Dec. 8, 2020, Pope Francis declared it the Year of St. Joseph. "This is extraordinary," he said, "because we have never, in our 2,000 years of Christianity, have we ever had a Year of St. Joseph. The father of Christ, the man that God entrusted his son to, has not been celebrated in this kind of way."
The Marian priest spoke to the men about the importance of consecrating themselves to St. Joseph.
"You need to model him in his love, in his sacrifice, in his sanctity, in his purity. Make this consecration, I beg you. You will want to be like him. You will realize that there is no other man like him. We need him today more than ever. The program of preparation and consecration only takes 33 days.  It can be undertaken on your own or in a group."
Aldwin Liwanag, a parishioner at Queen of Apostles Church in Royal Palm Beach, brought his two young sons with him, Aldrich and Alvaro, to hear Father Calloway speak about the importance of praying the rosary and consecrating their lives to St. Joseph.
"I finished my consecration to St. Joseph. It is so powerful, as fathers, to consecrate ourselves to the dad of our church. I want to teach my sons that we need to be real men and stand up for and defend our faith." 
To read the full Florida Catholic Media article, click here.