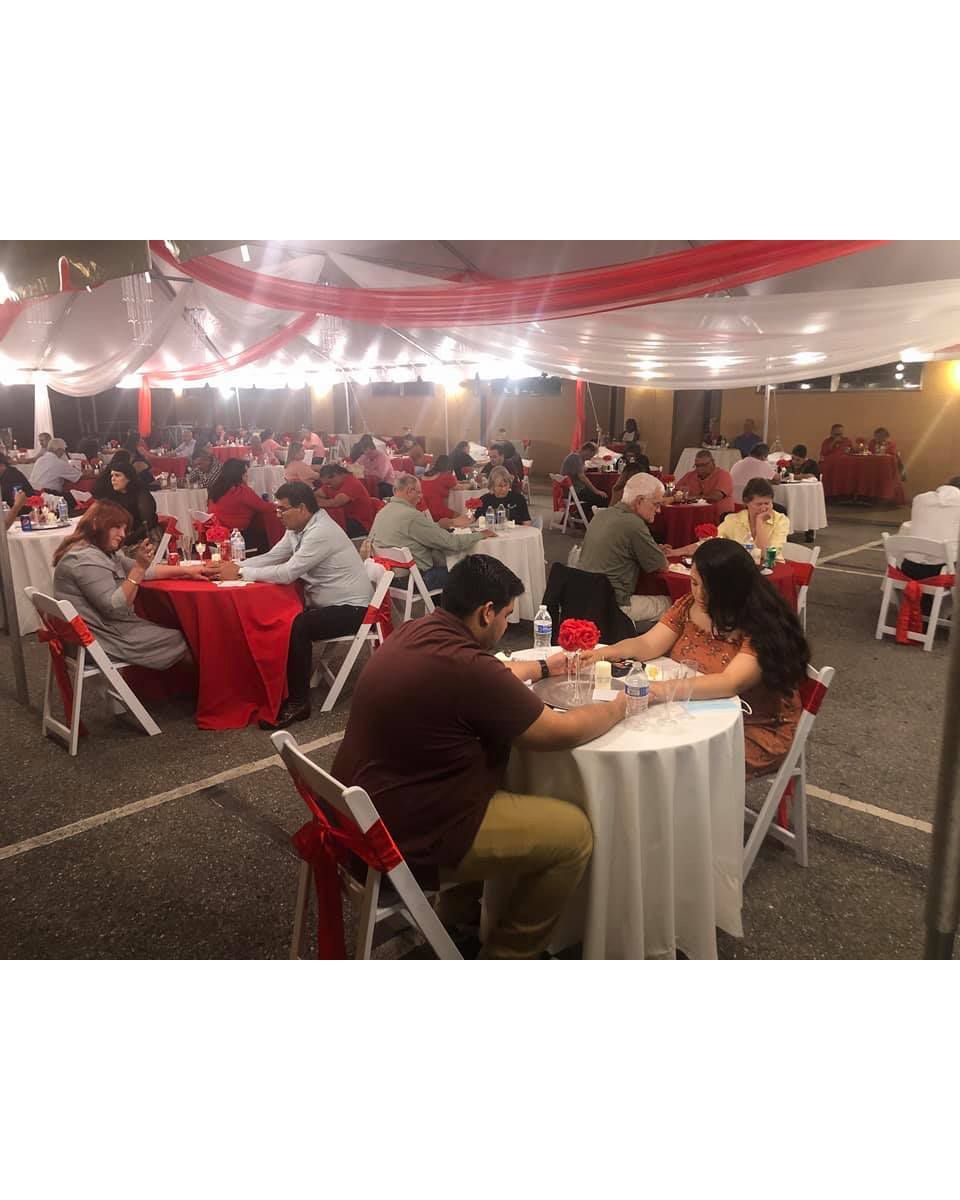 BELLE GLADE - After being pastor of St. Philip Benizi in Belle Glad for four years, Father Matthew DeGance said he is blessed to have gotten to know the members of the parish extremely well.
However, the Salesian priest was shocked to see so many new faces at the parish's St. Valentine's Day dinner, Feb. 13, 2021.
"About 20 percent of attendees were not from the parish," said Father DeGance of the group of 60 that came to the parish's event.
The dinner was held outside in a large tent decorated in a festive red for St. Valentine's Day and trimmed in twinkle lights. This, and the fact that the dinner was held outside, attracted a sizable group of couples who were able to enjoy a romantic setting with a table each to themselves, remaining socially distant and adhering to CDC guidelines. They also competed in fun contests and heard a witness talk from a couple focused on the habit of practicing gratitude. Following the talk, couples used note cards to write down two ways they could commit during the Lenten season to practice gratefulness for their spouse.
"In non-pandemic times, we have about 400 students enrolled in our catechism programs. This means we have a large number of young parents in the congregation seeking a supportive environment for family life," Father DeGance said.
This couples' outreach event was the first in a series of date night activities through the parish's partnership with Communio, a nonprofit national organization that consults with churches to equip them with data insights and ministry best practices to foster healthier relationships for singles, those preparing for marriage, married couples and those in marital crisis.
Father DeGance said his parish community consists largely of families of migrant farmers who live at or below the poverty line. Through his pastoral work rooted in the Salesian charism of assisting the poor, particularly the youth, he has witnessed an overall need for ministry work geared towards building stable families and stronger marriages. A desire to provide this ministry for couples, especially those with children, he said, sprung from the inspiration of using God's graces to "get to the source of the problem by fortifying the very fabric of the home — marriage." 
"There is an overwhelming number of couples who have children but are not married, couples who are cohabitating and blended families who do not have the stability of married parents," Father Degance said. "These are individuals who want to live faithful lives but, don't necessarily understand the sacrament of marriage, the human aspect of it or have the tools it takes to live it spiritually and emotionally."
This prompted Father DeGance to reach out to Communio to design a data-informed relationship ministry through the concept of a Ministry Engagement Ladder that leads the parish through four levels of assessment. The first level is labeled as an invitation to get to know the parish, which involves surveying the parish four to six weeks prior to the first outreach event to see the relational needs of the community.
Read the full Florida Catholic Media article here.