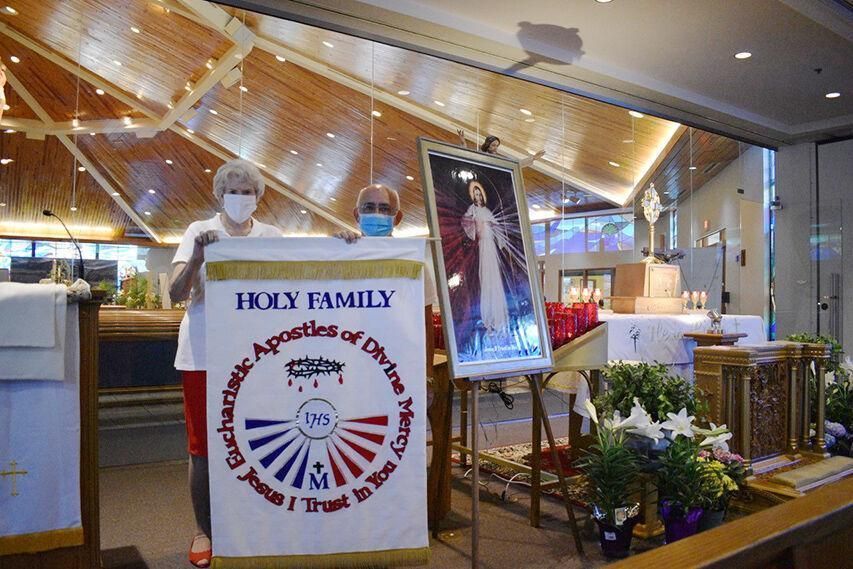 PORT ST. LUCIE  |  Many parishes throughout the Diocese of Palm Beach celebrated Divine Mercy Sunday on April 11, 2021, with Mass and hour dedicated in praying the Chaplet of Divine Mercy. 
Holy Family Church in Port St. Lucie participated in this celebration, with Mass led by Father George Kodiyanthara, parochial vicar and a priest of the Order of Discalced Carmelite Friars. He spoke about the Divine Mercy message to parishioners attending the Eucharistic celebration at Holy Family Church. 
"In the picture of Divine Mercy, Jesus has red and white rays flowing from his heart," the priest said. "Red and white rays represent the blood and water that flowed from the heart of Jesus. For everyone who venerates the statue and prays before the picture of Divine Mercy, God promises to protect them not only throughout their life, but at the time of their death. When people come to me at confession, I remind them our God is a god of mercy, a god of compassion, a god of forgiveness. Whenever you repent of your sins, God forgives your sins and you experience the mercy of God. 
"Our Lord, Jesus Christ, gave the world a promise of redemption, 'Divine Mercy,' for all repentant sinners," he continued. "What a gift from Our Lord. It is never too late as long as one is alive to repent and change your path in life to one that leads to God."
To read the full Florida Catholic Media article, click here.