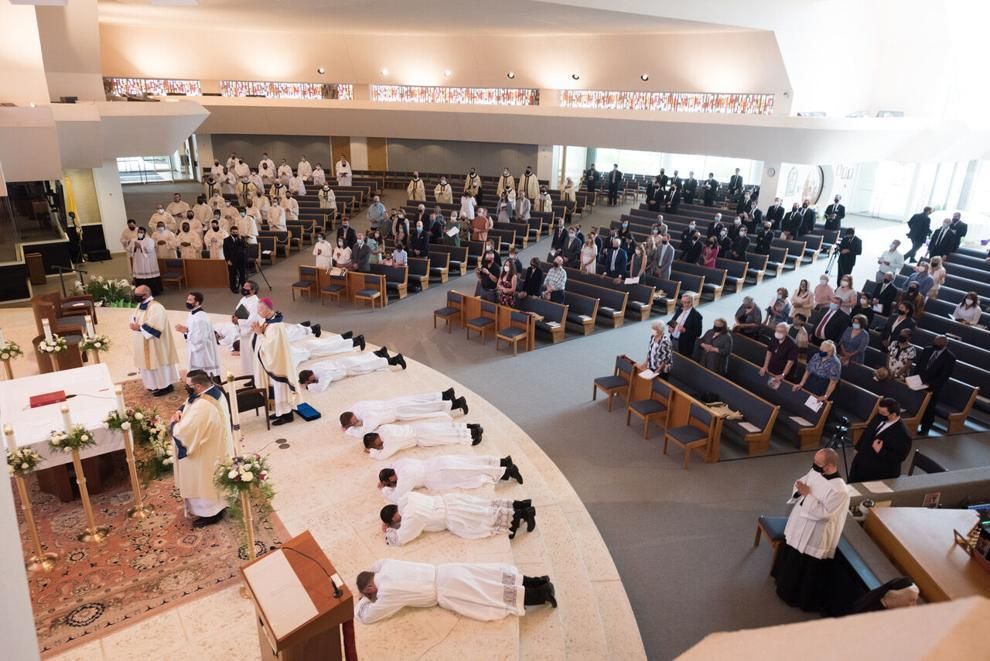 BOCA RATON - It was a joyous occasion April 17, 2021, at St. Joan of Arc Parish in Boca Raton for the ordination Mass for two seminarians as transitional deacons.
The choir sang with splendor as Bishop William A. Wack, CSC, of Pensacola-Tallahassee, presided at the Mass. Nine of 12 seminarians from St. Vincent de Paul Regional Seminary in Boynton Beach were ordained transitional deacons. In addition, three St. Vincent de Paul seminarians from the Archdiocese of Miami were previously ordained to the order of the diaconate April 11, 2021, by the Archbishop Thomas G. Wenski of Miami.  
This Mass was livestreamed, and the congregants wore masks and practiced social distancing during the event.
Following the Gospel, the rite of ordination began with the presentation of the nine ordinandi: Donald Joseph Amodeo II and Zachary Edward Brasseur of the Diocese of St. Petersburg; Zackary Buck Gray, Kyle James McClure and Joseph Thuan Minh Tran of the Diocese of Orlando; Daniel Brendan Donohue and Armando Leon-Oliva of the Diocese of Palm Beach; and José Alberto Grullón Ogando and David Albert Portorreal of the Diocese of Venice.
To read the full Florida Catholic Media article, click here.