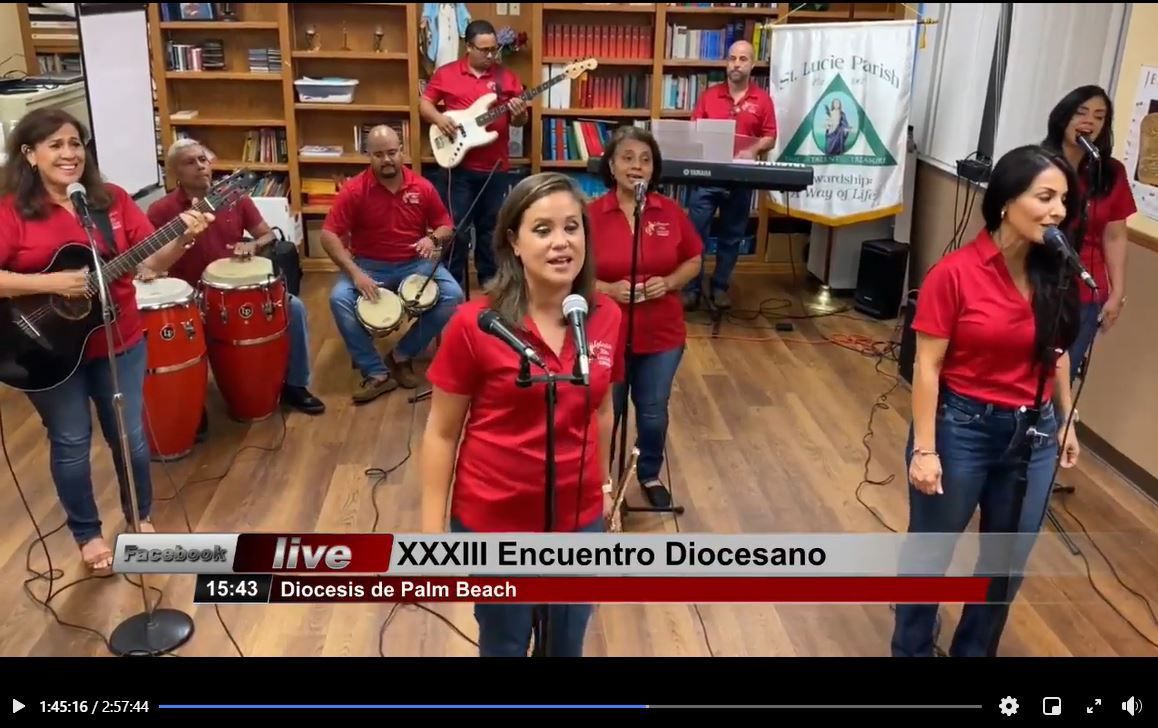 PALM BEACH GARDENS - "In the Diocese of Palm Beach, like Mary, the Hispanic community says 'yes,'" proclaimed Father Duvan Bermudez at the Encuentro XXXIII livestream event May 16, 2021.  
Every year, the Catholic Hispanic community comes together for a spiritual encounter, or encuentro, with Christ. This popular event typically attracts hundreds of parishioners from throughout the diocese's five-county area and, for the year 2020, the Encuentro event was scheduled to be held at the South Florida Fairgrounds in anticipation of hosting 5,000 people for a day of spiritual growth and fellowship. However, the COVID-19 pandemic hindered Father Bermudez's plans for the largest Encuentro gathering yet.  "Transitioning to an online event wasn't easy, but it has allowed us to stay connected with parishioners and accompany them on their spiritual journey through the hardships of the pandemic," said Father Bermudez, director of Hispanic Ministries and the School of Christian Formation. 
Although separated by screens and social distancing, those who tuned in to the thirty third diocesan Encuentro, livestreamed from the Family Life Center at the Cathedral of St. Ignatius Loyola in Palm Beach Gardens, found the annual event dynamic and unifying. The presence of parishioners from approximately 24 parishes was an indication of the Catholic Hispanic community's desire to honor the Blessed Mother through the theme, "In the Diocese of Palm Beach, like Mary, the Hispanic community says 'yes.'" 
Joined by Armando Garcia from Radio Católica, Father Bermudez broadcasted live from the Family Life Center at the cathedral to the radio station's online TV platform, as well as to the diocesan Hispanic Ministry's YouTube and Facebook pages, and to Radio la Divina Misericordia. The hosts introduced each parish group joining virtually from their church location. A musical group from St. Andrew Church in Stuart performed an original composition by Anibal Guzman, which reflected this year's Encuentro theme. 
To read the full Florida Catholic Media article, click here.