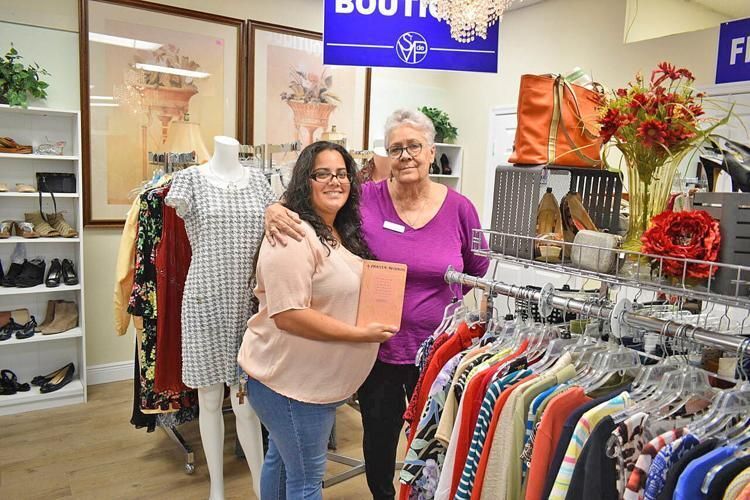 HOBE SOUND  |  The Society of St. Vincent de Paul is a nonprofit Catholic organization of laypeople serving the needy with compassion providing charitable and/or spiritual assistance to anyone in need regardless of race, religion or political views. One of the ways that the organization helps those in need is through thrift stores. 
St. Vincent de Paul thrift stores are scattered across Florida and worldwide. In Hobe Sound, a St. Vincent de Paul conference and thrift store are located on the premises of St. Christopher Parish, 12001 S.E. Federal Highway.
"We have been here since 1993. Our mission is to help the poor," said Karen Bradshaw, president of the Hobe Sound St. Vincent de Paul conference. "God has been very good and very generous to me. I am retired and I give three and a half days a week as a volunteer." 
Bob Keating, the conference's vice president, described their objective. "Our main goal is to assist people with the basic necessities they need to survive, such as food, rent, prescriptions. I have been very fortunate in my life, and I want to pay back."
Bradshaw added that their "mission is to help the poor. We find out what people need and we give it to them. We pay their bills directly. The money that is donated to us, 100% of that money is used to help the poor."
The society's global mission is "to live the Gospel message by serving Christ in the poor with love, respect, justice, hope and joy, and by working to shape a more just and compassionate society."
The main headquarters of the society in the United States is in St. Louis, Missouri. The lay Vincentian volunteers live the Gospel by serving the poor and putting their faith into action, by "walking the walk."
St. Vincent de Paul was a French 17th century priest known for his compassion for the poor and marginalized. He died Sept. 27, 1660, and Pope Clement XII canonized him in 1737. St. Vincent is the patron of Catholic charities, and his feast day is Sept. 27. In 1835, French scholar Frederic Ozanam made the saint the inspiration and namesake for the Society of St. Vincent de Paul.  
In St. Lucie County, there are five Society of St. Vincent de Paul conferences: St. Bernadette, St. Lucie, St. Elizabeth Ann Seton, Holy Family, all in Port St. Lucie, and St. Mark in Fort Pierce. 
Camille Mongiello, vice president of the Holy Family conference, said, "People can reach out to us on the parish hotline by dialing 211. We offer services to all people regardless of their faith."
The society gives assistance to those in need helping with their rent, electric, water, car insurance, whatever is due. We pay directly," said Mary Beth Farrell, secretary for the council at Holy Family. "I am a retired nurse volunteering since 2009. I do it because I want to continue helping people in every aspect to help them better themselves."
Vincentians are required to go in pairs when visiting clients. "We always pray before going on a case. Some people are Catholic and some are non-Catholic," Mongiello said. "If they are Catholic, we offer them a church bulletin. A lot of people ask us to pray with them during a visit to their home." 
In Port St. Lucie, there is a St. Vincent de Paul thrift store at 697 S.W. Biltmore St. Linda Schmidt has been the store manager for the past three years.
"We have found a tremendous increase of people in need. When people come in for help, we give them food and clothing from our store. This is 100% a ministry," Schmidt said several weeks ago. "Sometimes they come in and knock on my door and ask if we can pray with them."
Jacqueline Rivera, assistant manager, said, "I love doing this, helping people who really need help. We have a Bible here, and if people ask for prayer, we read a passage from the Bible."  
Schmidt added, "Our business has almost doubled in three years here. We have people when they come here say they feel the presence of God."
Check your area for the closest St. Vincent de Paul thrift store in the Diocese of Palm Beach. For the Hobe Sound shop, visit svdp-hobesound.org or call 772-546-2492. For the thrift store on Biltmore Street in Port St. Lucie, call 772-344-1341. For rent and utility assistance in the Port St. Lucie area, call 772-335-8621. The SVDP district office is at 6801 Lake Worth Road, Suite 216, in Greenacres. For assistance, call 561-697-9699. The national office of the St. Vincent de Paul Society can be reached at 314-576-3993.
To read this story and other stories in Florida Catholic, click here.