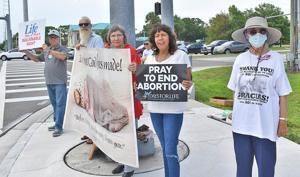 PORT ST. LUCIE  |  Pro-life advocates gathered for a late afternoon "celebration rally" on U.S. 1 in Port St. Lucie June 24, 2022, after a U.S. Supreme Court ruling overturned Roe vs. Wade. 
The Florida Catholic asked some of those gathered what their reaction was to the decision. 
"I have been crying happy tears all day," Millie Betts said.
Agnes Mulligan of St. Martin de Porres Parish in Jensen Beach said, "I am elated. With all our hard work and lots of prayer, God answered us. Prayer, Mass and praying the rosary, this is how it happened."
"I am here to celebrate 49 years of injustice being overturned and giving babies, at least now in some states, a chance to live and to have a great life," said John Giorgis of St. Elizabeth Ann Seton Parish in Port St. Lucie. 
To read this and more stories like this in Florida Catholic, click here.