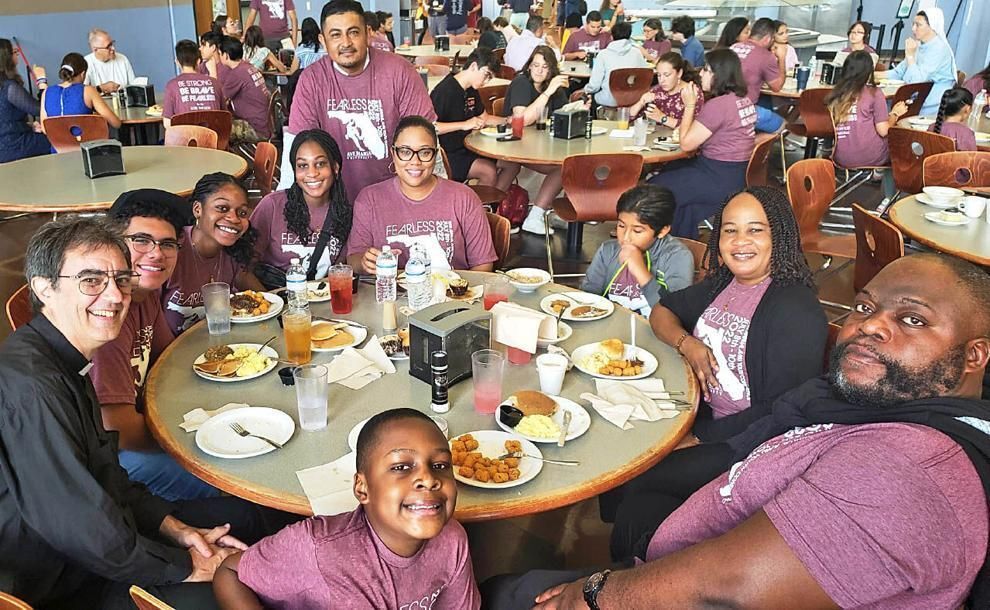 PALM BEACH GARDENS  |  Groups of teens from the Diocese of Palm Beach attended youth conferences July 8-10 designed to facilitate real encounters with the living God and reveal to them a church that is youthful, loving and vibrant. Following the events, the teens said eucharistic adoration made the greatest impact on their faith.
"I love the adoration. It hit me pretty hard," said Melanie Rodriguez, a member of the youth group from St. Luke Parish in Palm Springs who will be a home-schooled senior this year. Her group attended the Ave Maria University youth conference on the campus near Naples. "I've gone to adoration before, but it's not as deep a level as it was over there. And I felt really in the presence of Jesus."
Maritza Morales, who attended the Franciscan University youth conference in Orlando with a group from Sacred Heart Parish in Lake Worth, will be a senior at Santaluces High School in Lantana. She said eucharistic procession brought out some surprising emotions.
"During the adoration, I'm usually not a person who cries, but out of nowhere I guess I started crying. When it was going around, I just couldn't stop, and after that I felt relief," she said.
Both youth conferences featured spirited praise and worship music, prayerful liturgies and thought-provoking talks geared toward the concerns of young people.
"I like the aura or kind of energy it had with all the different people from different places coming together and talking about experiences with Jesus and worshiping," said Eric Aguilera, who will be a sophomore at Cardinal Newman High School and went to Ave Maria with the St. Luke group.
Youth ministry leaders in the Diocese of Palm Beach who were able to take groups to a weekend youth conference could choose either venue. Both events offered the chance for young people to experience a life-changing conversion and a closeness to Jesus that they possibly had never felt before.
Robert "Sully" Sullivan, director of religious education and youth ministry at St. Luke Parish, is one of the local leaders who chose the youth conference at Ave Maria University for the second year in a row. He had brought groups to the Franciscan University conferences in Orlando many times through the years, but he prefers the more intimate setting at Ave Maria.
Attendance at Ave Maria is at about 400, Sullivan said, compared to the thousands of teens who are usually at youth conferences for the Steubenville University in Ohio. It's easier to keep the teens focused and listening to the witness talks when there are fewer distractions, he said.
"It's easy to keep them connected. And the fact you're on a Catholic university campus," Sullivan added. All of the attendees stay in dorms on the Ave Maria campus, where there is a chapel on every floor with the Blessed Sacrament available for adoration 24/7, he said.
This year's group from St. Luke was comprised of 32 people in all, including 20 teens.
The group from Sacred Heart that attended the Franciscan conference in Orlando was led by youth ministry director Salomé Mondelus, who went to the Ave Maria event last year and attended the Franciscan conference in 2018. Her contingent included 39 teens.
She felt it was important to show them that the church isn't boring if they understand it and they contribute their talents to make it dynamic and inviting. Mondelus said one of the speakers helped drive home that message to the young people.
Auxiliary Bishop Joseph Espaillat of the Archdiocese of New York, who is known as "the rapping bishop," was a big highlight for her teens, who couldn't stop talking about him, she said. 
"He went to their level just to bring them up so they could understand that the church is fun and your talent, that God gives you, you need to bring it now into the church," she said. "And the church will welcome you, and that's what we want. We don't want you to change. God created you with those gifts, so you need to bring them into the church and make others experience it."
Besides eucharistic adoration, Sullivan said a highlight of the Ave Maria conference was a presentation by Jimmy Wahlberg, brother of actors Mark and Donny, who recounted his fight with drug addiction and prison life. The witness talk emphasized, Sullivan said, that "no matter how much I foul up in life, God still loves me. I'm still a child of God, and there's still an opportunity for forgiveness if I truly reconcile with God and I have a contrite heart."
The sacrament of reconciliation was readily available at both conferences, which also featured gender-separate workshops with significant messages. Rodriguez, who went to the Ave Maria conference, said, "One of my favorite ones was the one for girls, and that one hit me pretty hard as well because it made me realize that we don't have to be defined by all the things in the world. As a woman, that kind of helped me."
At one point during the Franciscan conference weekend, Mondelus said the adult chaperones were called up to pray for their kids. It was an emotional time for everyone, she said.
"It was a real connection time with each other. We prayed for one another and we showed God's love. I don't need to know you; you don't have to know me. We're all one. It was a great moment," Mondelus said. 
The two youth leaders, Sullivan and Mondelus, asked similar questions of their young attendees at intervals during the weekend. They wanted the teens to think about where they are in their relationship with God on a scale of one to five or one to 10. 
Before beginning the drive to Ave Maria on Friday morning, Sullivan asked his teens to ponder the question. Then Saturday afternoon, seeing one of his teens go to confession, he approached the boy, who admitted that his faith was at a zero before the conference. A day later, the teen said he was a solid three out of 10.
"That's phenomenal," he said to the teen. "To me, that's a big jump in one day. And by Sunday, you might tell me you're five or seven or who knows where you'll be tomorrow."
Sullivan said each had a lot of personal time with God. He encouraged his teens to have fun on the weekend, but to focus intensely on the witness talks to get the most out of the experience.
"When the music is on, you focus on those words. You stand and praise God. Don't be ashamed. Don't be afraid. And I think they all got a step closer in their walk," he said.
Mondelus said that on the weekend, when she asked her teens where they were in their walk with God, they admitted to being a two before, but had advanced to a four out of five. Asking them why, the teens said they understood God better and knew that he is near. Some of them had been sent to the conference by their parents and had never felt a connection to God, but they did feel his presence at the conference. 
"I want these kids to be a testimony to others. I want them to now stand up and understand and work and use their talents for God so they can bring others and be a testimony of the faith," Mondelus said.
Since returning from the youth conferences, both leaders hope to keep their teens connected to the church and prolong the spiritual exhilaration that the teens felt on the weekend. For Mondelus, one way to achieve that is by ensuring that the teens take time for eucharistic adoration.   
"We're living in a world that's so noisy and so much is going on," she said. "Sometimes I feel that the kids are just afraid to have silent time with God. That's very important and that's one of the things I want to focus on."
Sullivan feels part of his task is to stay in touch with the teens who went to the conference and urge them to be involved in the St. Luke youth group, which is called the "DOG House" (Depend on God).
"I have to do that. I can't just come to work, do my job, then say, 'Well, now it's up to the kids to do or it's up to the parents.' No, I feel called to keep pulling them back."
The students who went to the youth conferences and spoke to the Florida Catholic spoke of the impact the event had on them. Wyatt Petrie, who will be in 10th grade at Somerset Academy Canyons in Boynton Beach and went to Orlando with the Sacred Heart group, seemed sure that the experience will leave a lasting impression on him.
"It's certainly not something that I'll be forgetting anytime soon," he said. "It was just really fun. I was there with people I've known since I was little, and there were so many other students there that were doing the same thing and being there because they believe in God. It was just a really beautiful event."
Schmiley Paul, an upcoming sophomore at Cardinal Newman and attended the Ave Maria event with her friends from St. Luke along with her parents, older sister and young brother, said, "I liked how it was very God-oriented. They made sure the students had time for God so they would never lose that connection while they're away from home.
"I would love to share my experience with my friends, but I feel like teens these days, people my age, they don't really know where to start with God," she added. "But I think these conferences really help to give them a head start with God and let them begin so they know how God is active in their life."
Rodriguez, of the St. Luke group, summed up her weekend at Ave Maria by saying, "I hope other Catholic kids go to experience something like that because it will leave a footprint forever in your life and you will get much closer to God than you will ever expect. Honestly, this weekend was something very unexpected, and it helped a lot with me and my life." 
To read this and other stories in Florida Catholic, click here.