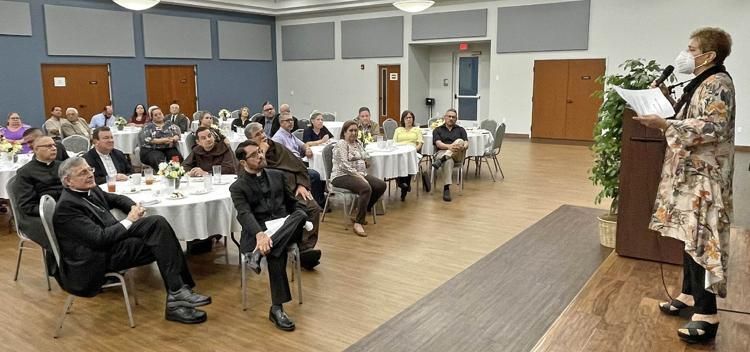 PALM BEACH GARDENS  |  As the School of Christian Formation prepared for the start of its 2022-23 year, Father Duván Bermúdez, director of the school, thanked teachers, parish coordinators and others at a dinner Aug. 3, 2022, at the cathedral hall.
"Thank you, my beloved teachers, because without you I can do nothing. Our School of Christian Formation cannot exist," said Father Bermúdez, who also expressed appreciation for the pastors who open their parishes to the program's classes, and Bishop Gerald M. Barbarito, who supports the efforts to educate and evangelize adults through the school.
"As a teacher, you help your students to connect with Jesus and invite them to be good disciples and good Christians," Father Bermúdez said.
The School of Christian Formation offers classes and programs in English and Spanish for adults seeking to learn more about the rich traditions of their faith. The courses, meeting for six sessions each, focus on subjects such as the Bible, church history, social justice, Vatican II, morality and the sacraments.
The classes are held at selected parishes in the diocese, starting in the fall as early as Aug. 8, 2022, and continuing through spring 2023. Besides the classes, there are special sessions designed for migrant workers, based in Boynton Beach, Lake Worth, Okeechobee, Fellsmere, Port St. Lucie, Jupiter, Belle Glade and Greenacres. 
The dinner speaker, licensed mental health counselor Norma Asencio, talked about the objective of the school and its instructors.     
"The goal is for them to see that we're a family, that we have a 'Father,' and that through history and through all these classes, that we're learning this is just a guide, a foundation that helps strengthen our faith. We need to be the light," she said.
Father Nestor Rodriguez, pastor of St. Ann Parish in West Palm Beach and formerly at Holy Cross in Indiantown, gave a brief testimonial about the good he has seen come from the school's programs.  
"We all know that knowledge for us, men and women of faith, brings us closer to God, to our church, and we just become more balanced, more connected to God, connected to one another," he said. "It's always been a great blessing to be able to open up the doors of my two churches to the School of Christian Formation."
A new site for classes is St. Jude in Boca Raton, and Carmelite Father John Horan said what a privilege it is to welcome the school to his parish.
"The church gives us many tools, and I think the School of Christian Formation is a wonderful tool that helps us to grow and that helps us to become the people that God wants us to be," said Father Horan, St. Jude's pastor. "I want to be a more faithful disciple and I want the people of St. Jude to grow in discipleship as well. That is why I have opened up the parish to this because it's a wonderful opportunity."
To learn more about the work of the School of Christian Formation, visit https://www.diocesepb.org/ministriesoffices/ministries/hispanic-ministry/school-of-christian-formation/ or contact Armando Garcia at 561-775-9544 or agarcia@diocesepb.org.
To read this and other stories in Florida Catholic, click here.