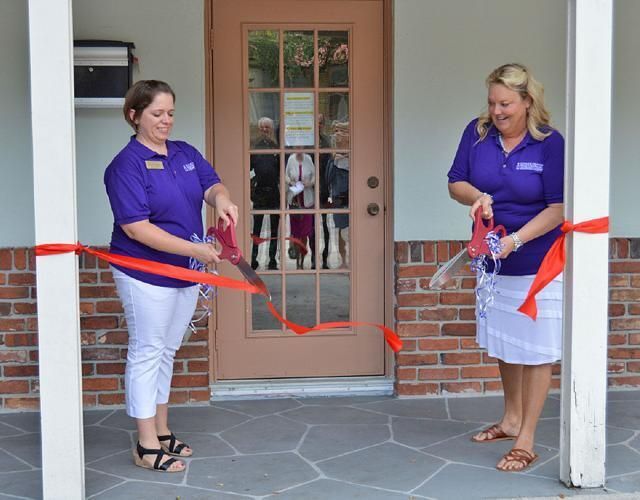 FORT PIERCE  |  Catholic Charities of the Diocese of Palm Beach celebrated the blessing and dedication of its newest office Aug. 26, 2022, at 1119 Delaware Ave. in Fort Pierce.
Agency staff members, friends and supporters were welcomed by Ellen Wayne, Catholic Charities CEO, who explained to the Florida Catholic that about half of the building will be utilized as a northernmost office of Birthline/Lifeline Pregnancy Care Center. The other half will be used by the agency's mental health counselors, staff with Immigration Legal Services and other programs.
Previously operated as a pregnancy care center not affiliated with Catholic Charities, the building was donated to the diocese along with an ultrasound machine, related equipment and two storage rooms full of baby diapers, wipes and other essential supplies.
"It was just a generous gift to meet some significant hardships," Wayne said. "What it demonstrates to our staff is that, regardless of what door somebody comes in, we're going to meet their needs. If somebody gave us an empty building, it would have been years before we could have really filled it with the appropriate resources to do the work that we need to do."
The dedication ceremony began with brief speeches outside under a tent behind the building, with Kris Rivera, Catholic Charities' operations director, as the emcee.
With the office strategically located across the street from an abortion center, Wayne acknowledged that some people in the area aren't happy about the investment by Catholic Charities to honor "the dignity and sanctity of life at all stages."
"We know full well that there are forces all around us that will continue to work against us and the important pro-life mission of this building, of this agency and of all of us gathered here today," she said.
Katherine Bowers, Birthline/Lifeline program director, affirmed the lifesaving work that will be done at the site and expressed heartfelt gratitude for the many "prayers and sacrifices being offered for the specific intention of moving our culture to one that defends and protects human life."
"For so many years, Birthline/Lifeline has only been in Palm Beach County," Bowers said. "This space and this opportunity are really wonderful because it will allow us to offer our services to so many other people in the diocese. We're really looking forward to it."
Working in tandem with Birthline/Lifeline is Women's Pregnancy Solutions, the Catholic Charities program that offers pregnancy tests, ultrasounds and counseling using mobile vans. Program Director Kenda Peterson said the new office will expand her program's territory into St. Lucie County and facilitate direct referrals to Birthline's services that are more convenient for clients.
"The goal is that we will be able to reach the Port St. Lucie area and a broader range as far as mobile units, and once these women choose life, then we'll be able to refer them right here to a local place," Peterson said.
Indicative of the essential partnership in Fort Pierce between Birthline/Lifeline and Women's Pregnancy Solutions, Bowers and Peterson were chosen to cut the ribbon to officially open the office. Father Bob Pope, pastor of St. Mark the Evangelist Parish in Fort Pierce, led those in attendance in prayers of blessing, sprinkling holy water at the entrance.
Other Catholic Charities staffers who spoke included Jithin George, counseling program clinical director; Tim Keohane, Immigration Legal Services program director; Deanna Herbst-Hoosac, Respect Life program director; and Renee Bireley, program development and relationship manager with the Samaritan Center in Vero Beach.   
During her speech, Wayne recalled a line from the hymn "The Summons" that she heard at a recent Mass: "Will you risk the hostile stare should your life attract or scare?"
"That's why we're here," Wayne said, "purposeful, situated in this very location, today, tomorrow and all the days after. We'll respond, not with hostility, not with a hostile stare, not with force, but with prayer and in love and service, to truly welcome and reach those we serve with compassion, with dignity and with care."
For information about the ministries and assistance offered by Catholic Charities, visit www.ccdpb.org, call 561-345-2000 or email Ellen Wayne at etwayne@ccdpb.org.
To read this story and others in Florida Catholic, click here.