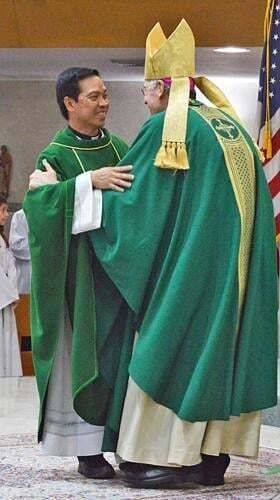 Bishop Gerald M. Barbarito spoke glowingly during his homily about the parish and its school, with their exemplary faith, spirit and energy, striving to make the church their family home.  
"You are the gift that the Church is all about. And together with the pastor and with the priests, all of us are given different roles. We all have different roles to carry out in the church," the bishop said. "The pastor has a particular role, as a teacher, as the leader of the Eucharist with his brother priests, as the one who calls forth the gifts that are present in each and every one of you, so that together as one family we build up the body of Jesus Christ."
"(Father Gonzales) has shown and lived in a concrete way what the Gospel reading is all about today. He cares for people. He has done that during his priesthood. And in the past year in different ways, you have seen him carry that out. He is a quiet man, a gentle man, a loving man," Bishop Barbarito said.
"I know that Father Dennis will continue to take care of you to look after you, and I know that you will continue to look after and take care of him because he is, as we say, the father of a family. … You are blessed to have him, and he knows and has expressed to me how blessed he is to be here at St. Vincent Ferrer."
During the installation ceremony, Bishop Barbarito's appointment letter was read, and he encouraged Father Gonzales to seek the advice of his staff and finance council members.
"As pastor of this parish, you are a fellow worker of the bishop, ever-faithful in working with the order of bishops and your brother priests so that the words of the Gospel may reach the ends of the earth and the family of nations, made one in Christ, may become God's one, holy people," the bishop said.
"My brother Dennis, remember to continue always as you are to be a loving father, a gentle shepherd and a wise teacher of your people so that you may lead them to Christ, who will strengthen all that you and they do."
At the conclusion of the liturgy, after making his promises of fidelity to church teaching on Scripture and tradition, faith and morals, and the magisterium, Father Gonzales thanked the bishop and those in attendance, including his predecessor as pastor, Msgr. Tom Skindeleski.
Mentioning his family watching the livestream of the Mass from the Philippines, Father Gonzales offered them a brief message in their native language. He thanked his aunt, uncle and cousin from Texas for attending the Mass. "They are my family here in the United States, they live in Houston, and they are always present in every milestone of my life, especially my priestly life," he said.
Recalling his priestly identity, Father Gonzales said, "First of all, I came here to serve you, to care for you, to love you, the people that the Lord has entrusted to my care, and I will continue to do it."
He made everyone laugh when he said, "Please know that my door is always open to all of you. Please also know that my day off is on Wednesdays."
Acknowledging the 21st anniversary of the terrorist attacks of Sept. 11, 2001, he said, "We continue to pray for the brave souls who died that day and their families. We continue to pray for our country and the world. We pray that our joy and the essence of our celebration permeates our country and our world."
For information on St. Vincent Ferrer Parish, visit https://stvincentferrer.com/, call 561-276-6892 or connect on Facebook.
To read this and other stories in Florida Catholic, click here.