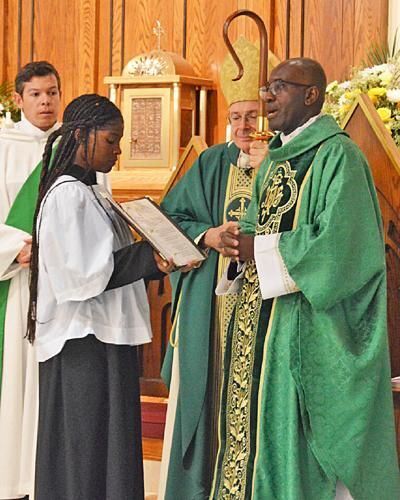 BELLE GLADE  |  In the first of two weekend ceremonies Sept. 10, Bishop Gerald M. Barbarito formally installed Father Nobert Jean-Pierre as pastor of St. Philip Benizi Parish in Belle Glade. The bishop also consecrated a new wooden altar in the church during the Saturday vigil Mass.
In his homily, Bishop Barbarito called Father Jean-Pierre a wonderful, loving, dedicated priest.
"What we celebrate tonight is the installation of a new pastor, but we are celebrating you, celebrating all of us, because you are the church. You are the people of God. You are the church here in Belle Glade at St. Philip Benizi," he said. "God calls us all, each and every one of us, to different roles within the church. It is only together, as we carry them out, that we build up the church and the church is alive."
The parishioners know the gift that Father Jean-Pierre is to their parish, the bishop said. "Like with the Gospel this evening, he represents that good shepherd who went out looking for one sheep. He represents the father in the parable of the prodigal son who went after his lost son. Father Nobert is a priest with a loving heart. A man who loves the church, a man who loves his people, a man who wants to represent Jesus Christ as best he can."
How fitting it was to dedicate a new altar while installing a new pastor for the parish, Bishop Barbarito said, "for the altar represents the center, the center of who we are as the church. It is upon the altar that we offer a sacrifice of Jesus Christ, and it is upon the altar that Jesus Christ truly becomes present as our food for life, body, blood, soul and divinity. All the actions of this parish of St. Philip Benizi flow to the altar and all the actions of St. Philip Benizi flow from the altar.
"Your faith, your hope, your love are so evident. As I said before, you are blessed to have Father Nobert and he is very blessed to be with you. You make a good family," he said.
The installation ceremony included the reading of Bishop Barbarito's letter appointing Father Jean-Pierre as pastor. The new pastor then affirmed his commitment to holy Scripture and church tradition, accepting the inerrancy of its teaching on faith and morals, and adherence to the magisterium. Father Jean-Pierre then led the congregation in the profession of faith.
In anointing the new altar, Bishop Barbarito asked for God's blessing on it, "that it may ever be reserved for the sacrifice of Christ and stand forever as the Lord's table, where your people will find nourishment and strength. Make this altar a sign of Christ from whose pierced side flowed blood and water, which ushered in the sacraments of the church."
At the end of the Mass, which included clergy from surrounding parishes and former pastors of Father Jean-Pierre, the newly installed pastor thanked all those in attendance who make St. Philip Benizi a special ethnically diverse parish, with weekly Masses in English, Spanish and Creole.
"Today I'm thankful to God, first and foremost, for the gift of my priesthood. The moment the Lord called me to be his disciple, spreading the Good News, and now in a special way he sent me here to spread his love, offer compassion and bring souls to him," he said.
He expressed gratitude to the bishop for giving him this opportunity to lead the community of St. Philip Benizi. "I'm really thankful to you for your spirit of understanding, your love and your trust," Father Jean-Pierre said. "With the help of God, I will do all the best I can to lead God's people to him, to be an example for them, to bring them together," he added.
"The first day I set foot here, I found a lot of people in this parish who welcomed me. They worked with me, they showed me love, they accepted me, and now I have become one of them," he said. "So, thank you for your heart, thank you for your support. Together we're going to do 'something beautiful for God,' quoting Mother Teresa. I promise you we will work together."
For information on St. Philip Benizi Catholic Church, click here for their Facebook page or call 561-996-3870.
To read this and other stories in Florida Catholic, click here.