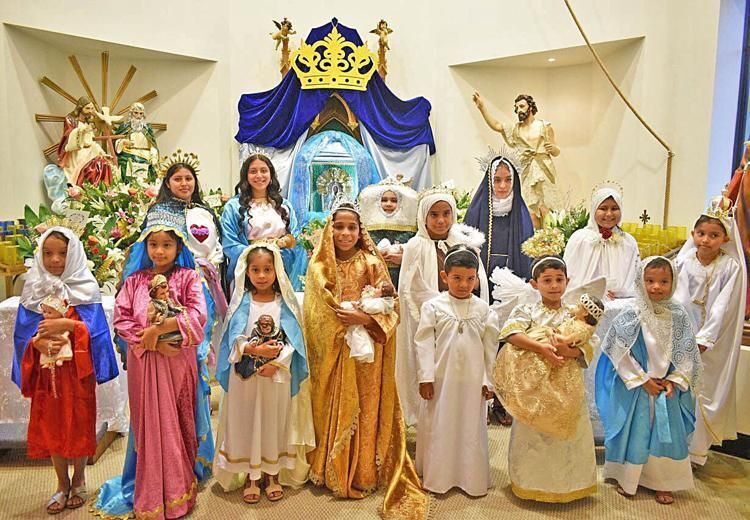 PAHOKEE  |  It was a festive occasion Sept. 8, 2022, as members of St. Mary Parish in Pahokee came to honor and celebrate the Virgin Mary's birth and venerate the 16th century Russian-jeweled icon of Our Lady of Bethlehem, where the faithful pray for an answer to prayer and to give thanks. It was also the 10th anniversary of the dedication of the present church building and 89th anniversary of the original St. Mary Church.
Mary's feast day celebration began with a children's procession, with girls dressed in many ways as the Virgin Mary and boys dressed as angels. Father Raúl Cárdenas, pastor, presided at the concelebrated Mass honoring Mary. The homilist was Father John Mericantante, the parish's pastor emeritus.
"Today at this Mass we celebrate Mary's birth from the womb of her mother, where Mary has been protected by the water also called amniotic fluid," he said. "Today also we celebrate our Blessed Mother under her three titles: Our Lady of the Pines (Canary Islands), Our Lady of Charity of Cobre (Cuba) and Our Lady of Bethlehem (Pahokee). All these images of our Blessed Mother are also associated with water."The icon of Our Lady of Bethlehem was donated in 2000 by the Kahn family jewelers of Palm Beach. In 2001, the Kahn family received an official apostolic blessing signed by St. John Paul II. The blessing hangs on a wall in their Palm Beach shop. Edward Kahn, who died Feb. 14, 2020, as a 103-year-old World War II Holocaust survivor, had hoped that one day the Pahokee church would be an official shrine for all to venerate the icon.
In addition to the Marian celebration, parishioners were joyful over a new soccer field and a significant donation to the parish that some say was an answer to prayer.
Father Cárdenas had wanted to have a soccer field, uniforms and equipment for the youth in the community. The Florida Crystals Co. in the Pahokee-Belle Glade area donated uniforms and equipment and was involved — along with other partners — with building a new soccer field on St. Mary's grounds.
Caroline Villanueva, Florida Crystals South Florida regional external affairs director, told the Florida Catholic about the company's support for the project.
"It really goes to Florida Crystals and their community support and community outreach, specifically to the Glades, which is a priority for the Fanjul family and Florida Crystals," she said. "Pahokee is where the company started 60 years ago."
An outdoor celebration with food and music followed the Mass. Uniforms and equipment were distributed to local youths and coaches. Father Mericantante blessed the crowd and soccer field.
Father Cárdenas led the teams in prayer, saying, "We all believe in Jesus Christ, Catholic or non-Catholic. It does not matter. We all know how to pray the Padre Nuestro (Lord's Prayer)."
Maria Tufano said, "It was a magnificent sight to see so many youth and people praying the Lord's Prayer and Ave Maria (Hail Mary) on the new soccer field."
Father Mericantante said he is "happy that Father Raúl put the new soccer field in the shadows of the new church so that young men playing might be blessed by Our Lady and feel called as men to a strong and vibrant life of unrelenting holiness and Christian witness."
Visitors to the church are invited to venerate the icon, but they are advised to call 516-924-7305 to reserve a time. To learn more about the Pahokee parish, visit https://stmarysofpahokee.com or its Facebook page @StMaryofPahokee.
To read this and other stories in Florida Catholic, click here.