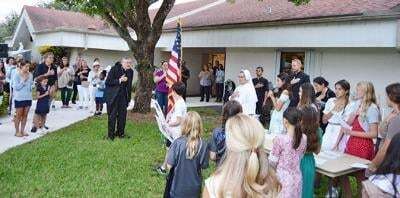 DELRAY BEACH  |  As significant as the June 24 U.S. Supreme Court ruling was in overturning the Roe vs. Wade decision, Bishop Gerald M. Barbarito said, pro-life work continues. There are still unmet needs among women who find themselves confronted with a difficult situation.
"Encouraging respect for life goes far beyond opposition to abortion, as important as that is, and includes the care of the entire person, from the moment of conception in the womb until natural death," he said during the Steps for Life Mass Oct. 1 at Emmanuel Parish in Delray Beach. The liturgy led up to the annual rosary walk fundraiser for Birthline/Lifeline Pregnancy Care Centers in the Diocese of Palm Beach.
"We must continue to do all we can through prayer and through proper legal persuasion to curtail state legislation, which can permit abortion," the bishop said during his homily.
Bishop Barbarito echoed the points he made in his "Living the Truth in Love" column in the Sept. 30 Palm Beach e-edition of the Florida Catholic (https://tinyurl.com/yhn4bnpx).
Expressing his gratitude for Catholic Charities through its Birthline/Lifeline centers and Respect Life ministry, the bishop reaffirmed that being "pro-life" means caring for human beings in a wide variety of circumstances.
"Abortion is a foundational issue when it comes to respect for life," he said. "However, it is not the only issue, and does not in any way de-emphasize the respect and the concern that must be regarded on behalf of every person, from the criminal, the elderly, the sick, the immigrant and any person whose right to life and wellbeing is undermined in our culture today."
If society disregards the smallest and most vulnerable humans — unborn children in the womb — then everyone's right to life is in danger, he said.
Bishop Barbarito urged the faithful to commit themselves to serve mothers and all people in need. "That is what respect for life is all about."
At the conclusion of the Mass, Katherine Bowers, Birthline/Lifeline program director, was invited to speak. She began by thanking Bishop Barbarito for being a strong and consistent pro-life voice, and for Emmanuel Parish and Father Gaudioso Zamora, pastor, again welcoming the Steps for Life event.
Though the recent Supreme Court ruling "was a wonderful step in the right direction, it did not change the need in our community for the services that we provide," she said. "God, of course, knew that and provided for us new opportunities to expand our footprint and our services."
Bowers noted the August opening of a Catholic Charities and Birthline/Lifeline office in Fort Pierce and the assistance available through Women's Pregnancy Solutions mobile ultrasound units that meet clients where they need help. One of the vans was open for tours during the rosary walk around the pond outside Emmanuel Church.
"Thank you to those who donate to Birthline/Lifeline," she said. "You play an integral role in our work. We are grateful to those who pray for the success of our program, for our clients and for the return to respect for human life in our society. Daily, just like this evening, we ask for Our Lady's intercession to pray for us in our mission and to guide us in our words and actions to bring about a culture of life."
Many donors of time, talent and treasure were on hand at the Mass and rosary walk. Bishop Barbarito began the rosary prayers that were continued by students from St. Vincent Ferrer School in Delray Beach, who also carried a Marian statue around the pond several times and assisted in other tasks.
Judy and Otto Rutt participated in the rosary walk with the bishop and many others. Judy has been a volunteer in the reception area at the Birthline/Lifeline office in Boynton Beach for almost four years.
"We believe wholeheartedly in protecting life from conception to natural death," she said.
"There are actually quite a few volunteers here spread around. It takes a lot of volunteers to make the office run," Judy added.
She said people may not know about all of the tangible assistance that Birthline/Lifeline hands out to people in need. "Diapers and formula, wipes and clothes, not just for the infant but for all the kids in the family. We have a ton of toys, strollers, walkers, car seats. All of those are donated by the people who are here. It's incredible," Judy said.
Bowers told the Florida Catholic that she is excited about Birthline/Lifeline's new website. "We waited a long time, and it's nice to have a presence that clients can go to on the internet to find our information."
She likes the soft look of the website, which represents the Birthline program offering "truth in charity to clients."
"It's a great opportunity for us to reach out in another capacity to connect with our clients and get them to come into our centers," added Bowers, who is grateful that a donor couple paid to create and maintain the website for a year, along with enhanced local search marketing that makes it easier for clients to discover the services offered by Birthline.
"We're very blessed to have that," she said.
For more information on Birthline/Lifeline, visit https://birthlinelifeline.org/ or the Catholic Charities website at www.ccdpb.org, or connect through social media.
DONATIONS WELCOME
During October, which is Respect Life Month, Catholic Charities is collecting items for new parents and babies, especially those who are going through crisis pregnancies, as part of the "Walking with Moms in Need" campaign.
The items (new and gently used) most needed include: baby clothes (newborn to 3T), cribs, car seats, strollers, bottles, formula, baby food, diapers (newborn to size 6), wipes, maternity clothes, playpens, receiving blankets, baby towels and washcloths.
Contact Birthline/Lifeline at the following locations to schedule a donation drop-off Monday through Friday from 9 a.m. to 3 p.m.: 212 E. Boynton Beach Blvd., Boynton Beach, 561-732-0570; 3115 45th St., West Palm Beach, 561-282-1467; or 1119 Delaware Ave., Fort Pierce, 772-241-5863. Donations also can be brought to the Catholic Charities office at 100 W. 20th St., Riviera Beach, 561-360-3330.
Too busy to shop? Then make a monetary donation by visiting https://catholiccharitiesofthedioceseofpalmbeach.salsalabs.org/RespectLifeMonthBabyShowertoBenefitBLL/index.html
To read this and other stories in Florida Catholic, click here.