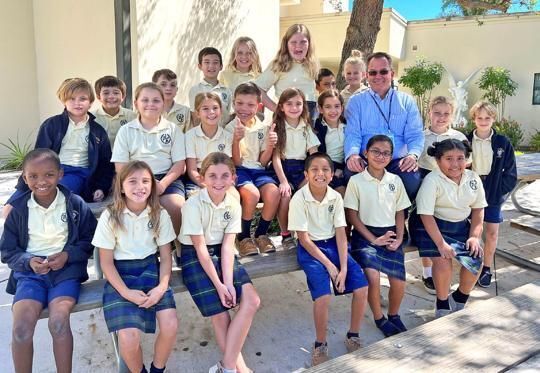 This is Part 2 of an ongoing series of articles spotlighting the principals who are leading Catholic schools in the Diocese of Palm Beach.
FORT PIERCE  |  While Kevin Hoeffner was a contented college administrator, he had no desire to become a Catholic school principal at his alma mater in Fort Pierce. But God had other plans.
About 17 years ago, when he learned from his wife, Debbie, that St. Anastasia was looking for a principal and others in the community thought he should apply, his reaction was less than enthusiastic. Hoeffner told her that he wasn't qualified or interested in becoming a principal, so he laughed it off.
"It's interesting how, as many times as I said no, God kept pursuing me," he said. "When you start by following His word and His call, and you know that it was His call, not something you were seeking out yourself, that He wanted me in this job. That makes the path so much easier to start there."
Hoeffner went to school at St. Anastasia, as did his parents. His grandfather went to school at St. Anastasia, which used to be a first through 12th grade school. "My great-grandparents helped build the original St. Anastasia Church back in the late 1800s when they moved down here from New York.
"I never expected to be back at my home school. My path was more focused on higher-ed," he said.
His undergraduate and master's degrees are in social work, and his doctorate degree is in higher education administration. Hoeffner, who is 49, worked at a few colleges and universities, including Florida International University, St. Petersburg College and Indian River State College.
Hoeffner said that the pastor of St. Anastasia, Father Richard George, likes to encourage people to make serving God their first vocation, then their vocation to their spouse, and then the love of their children and everyone else. Hoeffner believes that strengthening our love for God, marriage and family life is the greatest investment we can make to strengthen our schools. The years at St. Anastasia "have really been about listening to him (God), making sure that I keep a servant's heart, that I don't get in his way, that I don't try to stand on my own, but that I recognize that it's his yoke and that I'm just getting in there with him and plowing the field."
The diocesan superintendent of Catholic schools, Gary Gelo, affirmed that Hoeffner backs up his words with thoughtful action.
"Dr. Hoeffner is truly a servant leader and has made Jesus and the Catholic faith central to all that happens at St. Anastasia Catholic School," Gelo said. "He has a deep faith that guides his actions, and the mission of the school is the catalyst for all aspects of the school. Dr. Hoeffner and Father George have worked closely over the years to build an exceptional Catholic community at the parish and school."
The best part of his job, Hoeffner said, is assisting young teachers and families who appreciate being helped by someone who has been in their position.
"I get the opportunity to mentor people and guide, pray and bring my faith into all that I do," he said. "I don't think I would enjoy being a principal at a public school nearly as much because I wouldn't get to integrate my faith. I get to go to Mass with our school. How many people actually get paid to go to Mass?
"It's just such a blessing to realize the gifts that we've been given in this vocation to express our faith, practice our faith," Hoeffner added. The challenge is suppressing the impulse to act without consulting God first.
Every day presents more needs and concerns just among the school's 98 employees, not to mention the school families, he said. "We have 580 students this year. There are families getting divorced, people going through bankruptcy, family members in prison, grandparents raising children, death, cancer, surgeries — life is always happening at a school," he said. "It's a challenge to just recognize that life continues to present challenges and rich rewards and must take to prayer how I respond and how I lead."
In two years, St. Anastasia School will mark its centennial of being known for "Faith, Family and Excellence since 1926," Hoeffner said, while being open to change and new families. He also strives to honor the Adrian Dominican sisters who were brought by Msgr. Beerhalter from Michigan and founded the school and its rich traditions.
"I try to remember that I'm just a piece of it and that I'm building on the shoulders of the people who came before me," he said.
Hoeffner laughed when he was asked about any hobbies that he enjoys away from the school campus. "In fact, it is a rare and valuable occasion when I get to fish or read in my hammock," he said, "usually the people around me celebrate when I find extra time in my schedule for rest.'"
As with other school principals, summer is a busy time, especially trying to fill faculty and staff positions that have come open. Hoeffner keeps a copy of the school mission statement on the inside of his office door for when he interviews prospective employees to remind him and prospective teachers of the community's mission.
"I think that's one of my biggest jobs, making sure that we hire the right people to be here to minister to this community," he said. "We are always looking for highly-qualified teachers who are ready to grow in their faith and model Christ's love in this community."
Besides hiring great people, Hoeffner lists as his personal highlights the times when he has had a part in helping a student and/or family make it to graduation when some felt it would never happen. He often "adopts" one or two students who he feels need a little boost, but without assisting too much.
"To me, those are the big highlights, when you can see that this school, this community, this mission successfully has brought people closer to Christ," he said. "It brings me great joy when our school community understands the value of prayer and they recognize a more holistic perspective of success and excellence."  Making the honor roll is nice, Hoeffner said, but it isn't the not the only measure of excellence.
"I think what I'm probably most proud of is developing and promoting a mission that is about developing well-balanced children, a loving family, a church of believers, and that our school's mission is something that our community has embraced," he said. "When that happens and we place our trust in him, amazing things occur."
For more on St. Anastasia School, visit www.saintanastasiaschool.org or call 772-461-2232. To learn about all schools in the Diocese of Palm Beach, go to www.diocesepbschools.org.
To read this and other stories in Florida Catholic, click here.