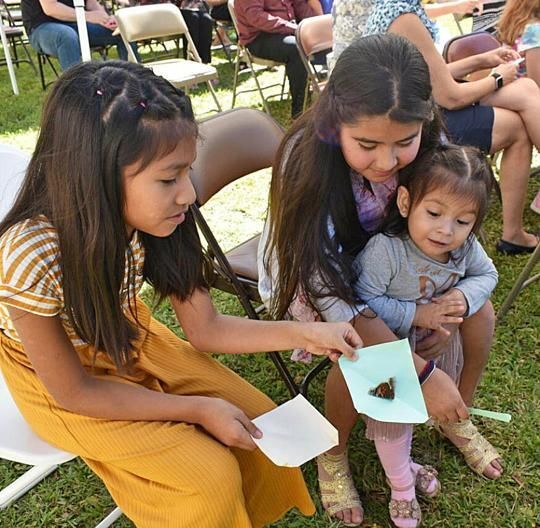 VERO BEACH  |  Faithful of all ages participated in the fifth annual Butterfly Release on Oct. 23, honoring babies lost by miscarriage, stillbirth or abortion in hopes of promoting healing. The releasing of butterflies, conducted by the Respect Life ministry at St. Helen Parish in Vero Beach, is symbolic of God's love, forgiveness and peace to those who have experienced such a loss.  
A memorial venerating the lost babies was displayed on the parish grounds and people were invited "to reflect, grieve, heal and honor all babies who have not been born to this earth."
Susan Baldwin, co-chairwoman of St. Helen's Respect Life ministry, spoke to the Florida Catholic about the founder of the Butterfly Release event, the late Holli Ann Skrapits, who was a St. Helen parishioner and Respect Life member.  
"This fifth annual Butterfly Release in remembrance of unborn babies was the idea of Holli Skrapits, who is no longer with us. We still honor her for this. Holli passed away September of last year (2021)," Baldwin said. "It has become a healing ministry and a remembrance and, to many people, a healing and a closure."
Marie Ferretti, co-chairwoman of the parish's Respect Life ministry, said, "Holli was the one who researched this and asked for permission to run the Butterfly Release. It was her vision and determination. She made it work."  
St. Helen's parochial vicar, Father Nicholas Zrallack, opened the event with a blessing and a prayer: "Loving God, we ask in a special way that this place, this garden, remains in your grace and your mercy that those who have encountered loss, the loss of a life of a child, regardless of the means or the reason, that they can find peace and comfort here …"
Continuing to pray before the butterflies were released, he said, "Lord, we ask during this time through the release of these butterflies that you would help us to see the miracle of life, the beautiful way that your presence is here present always with us."
Baldwin gave a moving tribute at the ceremony in remembrance of Skrapits, saying, "Holli had an incredible passion for protecting the unborn and for helping heal those who had suffered the loss of a baby. Although Holli is no longer with us physically, we know that she is with us in spirit, especially today.
"The loss of a baby results in a multitude of emotions, deep sorrow, grief, anger, guilt, emptiness, loneliness and even more," Baldwin said. "Today, however, we pray that you feel love, great love, love from your baby above. What had started out as an idea for a fundraiser over the ensuing years has become so much more to everyone who participates." 
Lily T. read a poem, "Little Butterfly" by Amy Farquhar, about the loss of a baby. Reading an excerpt from the poem, she said, "I know how much it hurt your soul, when we had to say goodbye; but I'm not gone, I am always here. I am your sweet little butterfly."
The butterflies were released as Jackie Camarene read the names of the unborn babies and/or personal intentions while the song "Perfect Way to Start" by Craig Aven was played. The song was written by Aven after his wife suffered a miscarriage. 
"I was asked to read the names, and when I read the names, the song was playing in the background," Camarene said later. "After the long list of names and prayer intentions ended, at that exact moment we got to the end of the last prayer intention and name, the song ended at the same time in 'God's perfect time.' You can't plan that." 
Gloria Rivera, coordinator of St. Helen's Hispanic ministry, said, "We work together with Respect Life in order to coordinate this event. It really helps women who have lost babies, and it is a beautiful thing to see." 
Deanna Herbst-Hoosac, Respect Life program director for Catholic Charities in the Diocese of Palm Beach, said, "This is amazing. It's a beautiful way to remember a loss of pregnancy, but with a hope of healing."
Joseph Skrapits, brother of Holli Skrapits, said, "I brought my daughter, Riley, here today to release a butterfly in memory of my sister, Holli. This makes me feel great."
Victoria Murphy, who is involved with the parish Respect Life group, said, "To release the butterflies in memory of the unborn children is a healing for the mothers." 
Char Bever brought her granddaughter, Lily Novoa, to the event. "I think it is a healing for many people who have no other way to express their feelings."
For more information about St. Helen Parish and its ministries, visit https://www.sthelenvero.org. For details on Respect Life ministry, contact Marie Ferretti at maf595@bellsouth.net or 772-473-9269. For more about the programs of Catholic Charities, visit www.ccdpb.org.
To read this and other stories in Florida Catholic, click here