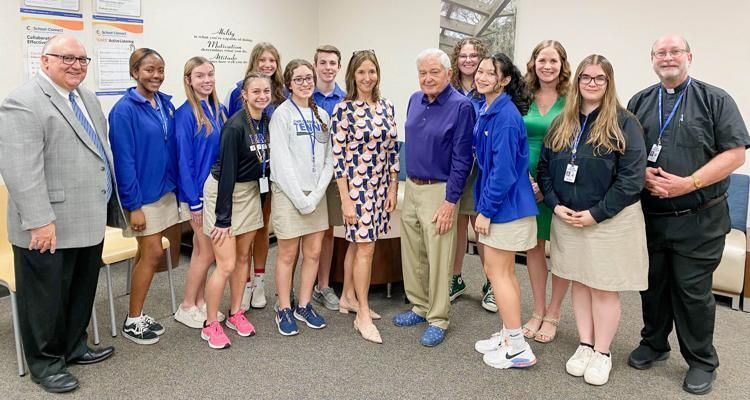 FORT PIERCE | Students at John Carroll High School recently had the opportunity to thank the man behind the Louis V. Gerstner Jr. Distinguished Scholarship program.
The scholarship program was established in 2005 when the Gerstner Philanthropies began investing $4.7 million in support of students at the three Catholic high schools in the Diocese of Palm Beach. The Louis V. Gerstner Jr. Distinguished Scholars Program awards scholarships to academically gifted eighth-graders from private and public schools in need of financial assistance. The Gerstner scholarship is the most competitive and substantial assistance awarded at John Carroll.
Scholars from the Fort Pierce Catholic high school were able to enjoy conversation and a luncheon with Gerstner. During the visit, he asked them questions about their high school experiences and shared insights into his own life and success.
"What really resonated with me was when (Gerstner) stated that you have to keep thinking bigger and bigger in your life and to not make a decision because it's comfortable and everyone else around you made the same choice," said Danielle Levesque, a John Carroll junior and Gerstner scholarship recipient.
School administrators also were in attendance and welcomed the opportunity to meet Gerstner in person.
"It was such an incredible experience to have our students meet Mr. Gerstner and thank him for his tremendous generosity to our school," said Corey Heroux, principal. "During our visit, Mr. Gerstner shared great pearls of wisdom with the students, and I know that we all benefited from our time together."
Morgan Brennan, a scholarship recipient and junior, said, "My biggest takeaway from my time with Mr. Gerstner was listening to the advice he had for the scholars and his willingness to listen to each of our stories. I love that he is genuinely interested in his scholars and wants to get to know us. We are so lucky to be able to have him visit us in person and take time out of his day to spend time with us."
Candidates for the scholarship must first have demonstrated financial need and shown strong academic excellence and leadership through middle school. Once named, the scholars must maintain a minimum 3.0 grade-point average and exhibit involvement in leadership and community service.
Scholars are required to provide grade reports at the end of each semester and must provide a letter to Gerstner Philanthropies at the end of each school year that summarizes their experiences during the year, including their leadership and service opportunities, as well as their future aspirations as they prepare for college.
Applications are received from incoming freshmen at each of the three high schools at the beginning of second semester. Each school has a selection committee that reviews applications, and awards are determined by the president and principal.
Louis V. Gerstner Jr. served as chief executive officer and chairman of the board of IBM Corp. from April 1993 to March 2002, and chairman until his retirement in December 2002. Following IBM, he joined The Carlyle Group, a global private-equity firm located in Washington, D.C. He served as chairman from January 2003 until October 2008. Upon retiring from that position, he continued as a senior adviser to Carlyle through September 2016.
Before joining IBM, Gerstner served as chairman and CEO of RJR Nabisco Inc. Prior to that, he served as president of the American Express Co. and was a director of the management consulting firm McKinsey & Co. Inc.
A native of Mineola, New York, Gerstner received a bachelor's degree in engineering from Dartmouth College in 1963 and an MBA from Harvard Business School in 1965. He is a member of the National Academy of Engineering, a fellow of the American Academy of Arts and Sciences, and has been awarded honorary doctorates from a number of U.S. universities.
For more information about John Carroll High School, visit www.johncarrollhigh.com or call 772-464-5200. Follow the school on Facebook (@JohnCarrollHigh), Twitter (@JohnCarrollHS) and Instagram (@JohnCarrollHighSchool).
To read this and other stories in Florida Catholic, click here.