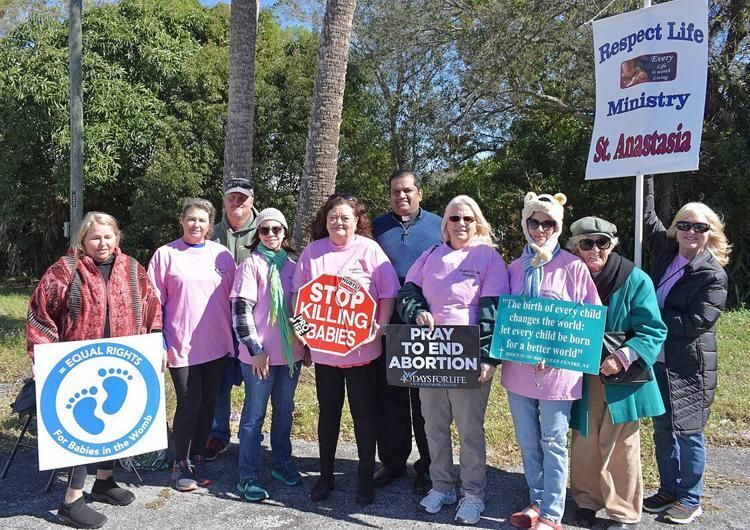 FORT PIERCE | The Treasure Coast's 13th annual March for Life rally was held at the Birthline/Lifeline center on Delaware Avenue in Fort Pierce Jan. 14. A commemorative butterfly release to honor aborted babies was postponed due to the brisk weather, but that didn't cool the ardor of the pro-life crowd.
"I am here to walk and march to the beat of the drum to protect the sanctity of life," said Pauline Pavlick, Respect Life/Gabriel Project coordinator for St. Lucie Parish in Port St. Lucie. "As Mother Teresa said, 'God didn't call me to be successful. He called me to be faithful.'"
Eric Wolf, Knights of Columbus district deputy, said, "The Knights have been a spearhead in right to life. We were founded in New Haven (Connecticut) in 1882 by Father (now-Blessed Michael) McGivney to protect the family."
Jim Thoma, emcee of the event, introduced an array of pro-life speakers representing local ministries and organizations that "rallied the troops" to keep defending the sanctity of life.
"No more Roe. I never thought in my lifetime that would happen," he said. "We have to work on the state of Florida. Our theme: First Roe, next Flo (Florida)."
Father Jacob Edwin, parochial vicar at St. Anastasia Parish, was invited to lead the opening prayer, beginning with the Our Father. "We need to all the time realize and understand that the most precious gift from God is our life," he prayed.
The Rev. Bryan Longworth, associate pastor at Covenant Tabernacle in Port St. Lucie and Personhood Florida director, said, "Florida has become an abortion destination because of a fatal fetal anomaly exception. If two doctors determine that the woman has a fatal fetal anomaly, then they can perform an abortion." A petition was passed around advocating for preborn children to be added to the Declaration of Rights in the Florida Constitution.
Margarita Duncan Vanegas, a counselor/instructor for Catholic Charities' Birthline/Lifeline, said she was thankful for the pro-life encouragement. "We have acquired, by the grace of God, two more ultrasound mobile units, and now we have the possibility of serving the whole diocese, which is five counties."
Deanna Herbst-Hoosac, respect life program administrator for Catholic Charities and Walking with Moms in Need coordinator, who was one of the guest speakers, said, "I want to thank all of you for everything that you do for respect life and the pro-life cause as it takes an army to really make a difference with the moms and babies in our community.
"We are steadfast in praying that there will be a monumental shift in the state of Florida court's abortion precedent in favor of protecting unborn children," she said. "We entrust the faithful to commit to daily prayer and fasting, along with other believers across the entire country, especially our state, for a decision that honors the sanctity of the unborn."
Hans Krug, director of WJPP, 100.1 FM, Prince of Peace Catholic Radio, passed out prayer cards and bumper stickers. "We are here to publicize your event, and we are here to tell the community what you do. We love using radio to evangelize," he said. "God blessed us by giving us a very clear frequency. You can hear us from Jupiter up to the outskirts of Vero Beach."
SLC (St. Lucie County) Sanctuary for Life is an advocacy and education organization working toward allowing no local abortions. John Giorgis, St. Elizabeth Ann Seton Knights of Columbus pro-life director and Respect Life chairman, said, "We need everybody to come together and make this county (St. Lucie) a sanctuary for the unborn, a sanctuary for life."
After listening to the speakers, the Knights of Columbus, dressed in full regalia, led the pro-life crowd in a peaceful March for Life toward the Fort Pierce City Hall while carrying pro-life signs for all passersby to see.
For information on the Treasure Coast March for Life, contact Thoma at jimthoma@comcast.net, follow Treasure Coast March for Life on Facebook or visit www.sohltc.com.
To read this and other stories in Florida Catholic, click here.