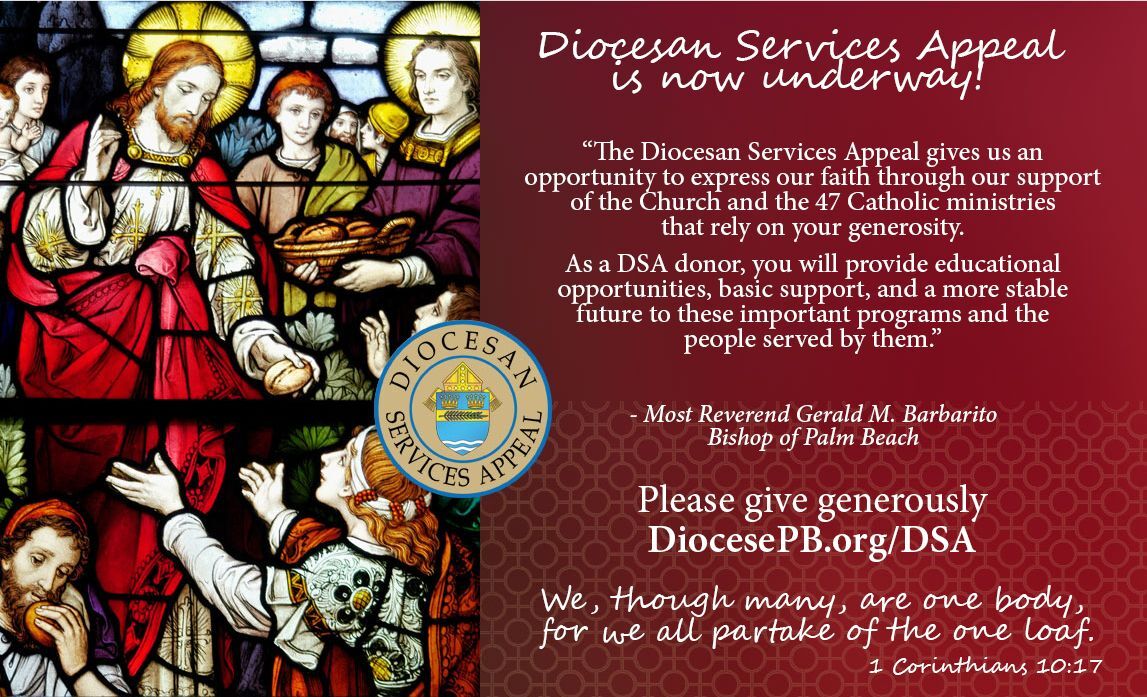 PALM BEACH GARDENS | The annual Diocesan Services Appeal kicks off in January to help support the numerous essential programs and ministries in the Diocese of Palm Beach. Many parishes will host presentations at Masses this month on the importance of funding the DSA.
There are nine main programs that the DSA supports throughout the diocese: Catholic Charities; vocations, seminarians and diaconate formation; Catholic education; cultural ministries; communications; marriage and family life; development; clergy and religious support; and diocesan support. Within each of those categories are projects that help local individuals and families, such as marriage preparation and counseling, outreach to the homeless, prison ministry and aid to pregnant women in crisis.
"It has been so special to see how the DSA funds support those within our five-county area and beyond," said Jennifer Trefelner, director of communications and development for the diocese. "The programs and ministries that the appeal supports are vital to the mission of our diocese and those we serve. One of my favorite elements of this job is reading the notes and messages from the beneficiaries of our services. It is truly heartwarming and affirming."
The money donated to the DSA stays in the diocese and supports programs in Palm Beach, Martin, St. Lucie, Okeechobee and Indian River counties.
The 2023 theme, "We, though many, are one body, for we all partake of the one loaf" (1 Corinthians 10:17), touches on the importance of the sacrament of the Eucharist, the source and summit of our Catholic faith. The bishops of the United States have begun a National Eucharistic Revival to instruct, inspire and prepare Catholics to be formed, healed, converted, united and sent out to a hurting and hungry world.
In a recent letter to potential donors, Bishop Gerald M. Barbarito explained that, "By supporting the DSA, you will help make a great difference, for which I would be deeply grateful. Your generosity will sustain our tradition of sharing and bringing hope to others. I prayerfully ask you again to consider a gift to this year's Diocesan Services Appeal. Your participation in the appeal is a vital part of our ability to provide services for our diocese and for those in need."
While all parishes fill needs in their communities and beyond, the DSA serves many obligations that are shared by the faithful, such as Catholic education and clergy formation programs.
"The DSA is unique in that it is the umbrella that supports all of the parishes and missions, in addition to the diocese as a whole," Trefelner said. "It reminds us that we are all part of one Catholic family and unites our diverse counties through one strong vision.
"I thank our donors in advance for their generous support. The philanthropy that is shown and the heartfelt donations are such a blessing to our diocese and parishes," she said. "We pray for this campaign and the donors on a regular basis, especially that they feel appreciated and acknowledged. This year, as a small token of our appreciation, all DSA donors will have the opportunity to receive a printed copy of the Florida Catholic once a month and/or receive the digital copy of the Florida Catholic on a weekly basis."
There are multiple ways to contribute to the Diocesan Services Appeal, including:
• Online at https://www.diocesepb.org/ministriesoffices/offices/development/diocesan-services-appeal/.
• By check, payable to Diocese of Palm Beach-DSA, and sent by mail to Diocesan Services Appeal, 9995 N. Military Trail, P.O. Box 109650, Palm Beach Gardens, FL 33410-9650.
• By phone, contacting Floricela Miguel-Roblero, donation processing specialist, at 561-775-9526 or froblero@diocesepb.org for processing donations from credit cards, bank authorization/direct debit, online donations or autopay checks.
• Contacting Lina Salcedo, development specialist, at 561-775-9518 or lsalcedo@diocesepb.org to inquire about donations from foundations, matching gifts or gifts of stock.
Many companies will match the charitable gifts of their employees as a benefit of their employment, which is an excellent way to double and sometimes triple the impact of your personal donation. Check with your employer or human resources department to see if they have a matching gift program.
Donors can become a DSA Partner, which are those donors who exemplify leadership generosity by donating or pledging $1,000 or more. The DSA Partner categories include gifts or pledges of $2,500, Circle of Faith; $5,000, Circle of Hope; $10,000, Circle of Charity; and $25,000, Circle of Joy.
For more information about the DSA or any other programs, visit the diocesan website at www.diocesepb.org. Jennifer Trefelner is available to answer general DSA questions at 561-775-9529 or jtrefelner@diocesepb.org.