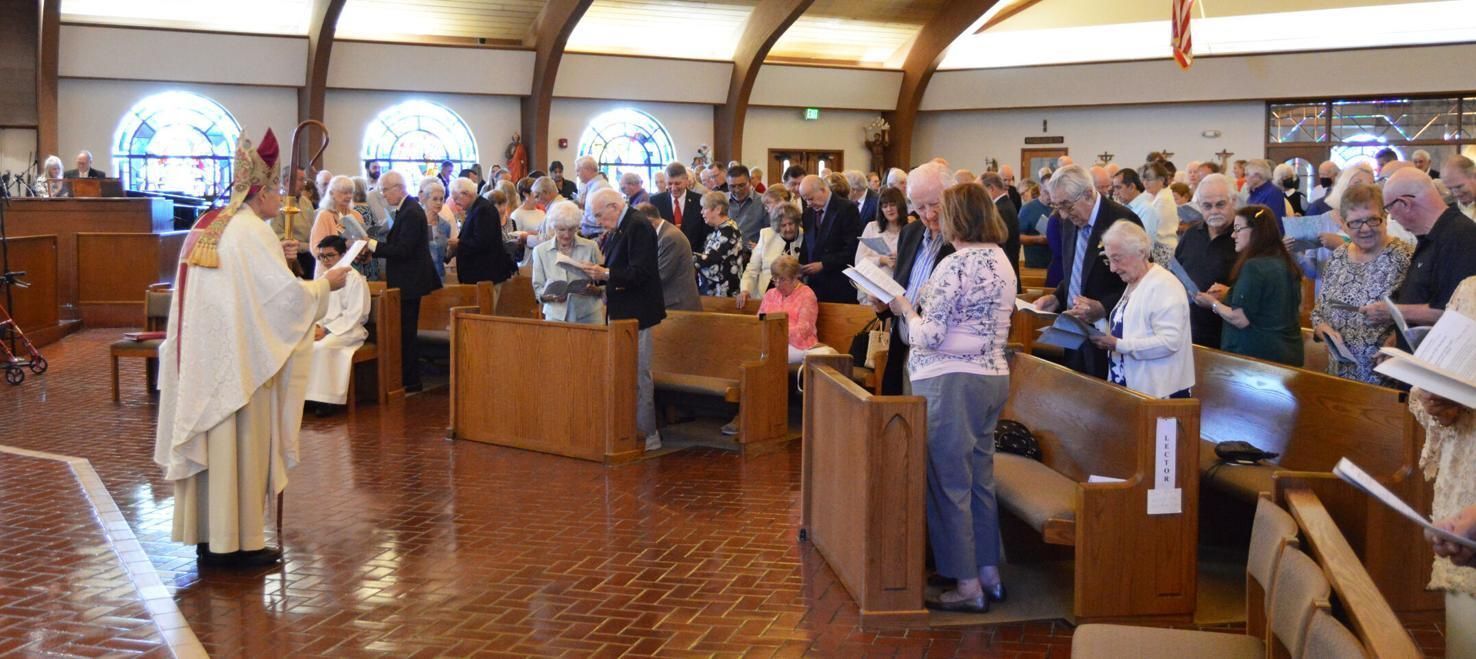 PORT ST. LUCIE | With a heart full of gratitude, Bishop Gerald M. Barbarito celebrated the first of two annual wedding anniversary Masses with couples marking at least 25 years of marriage Feb. 11, at St. Lucie Church in Port St. Lucie.
In attendance were 153 couples from 21 parishes in the northern area of the Diocese of Palm Beach. Seven are celebrating 25th anniversaries, 14 marking 40 years, 22 marking 50 years, 47 celebrating 51 to 59 years, 14 marking their 60th anniversary and 32 celebrating 61 or more years.
The bishop introduced the six longest-married couples at the Mass: John and Stella Reynolds of Holy Redeemer in Palm City, 69 years; three at 70 years, Salvatore and Rose Ann Sabia of St. Lucie, Charles and Marie LoMonaco of St. Elizabeth Ann Seton in Port St. Lucie, and Frank and Elizabeth Birk of St. Helen in Vero Beach; Joseph and Joan Fauci of Holy Family in Port St. Lucie, 71 years; and George and Clare White of St. Helen, 76 years.
All married couples who attended represented 7,644 years of marriage, he said.
"Your presence here is a great joy for all of us. We're grateful to you and we congratulate all of you on this happy occasion," Bishop Barbarito said.
One of the couples, John and Betsy Toole of St. Elizabeth Ann Seton, who marked their 52nd anniversary last October, told the Florida Catholic how they looked forward to the Mass.
"Marriage is extremely important to understand the fundamental principles of life and getting along together, compromising and showing your love in different ways for 52 years," said John, who moved with Betsy to Florida from California almost two years ago. "So, I think any year we can do that and enjoy it as much as we have been enjoying it, it's worth celebrating."
In his homily, Bishop Barbarito spoke about marriage as a gift and love as much more than a passing emotion. Sacramental marriage is a lasting bond that mirrors the fidelity of God.
"During your years of marriage, you have experienced many joys, but also many difficulties and sacrifices which you have had to make to give of yourselves to each other and to your families," he said. "With all of the good and with all of the difficulty, nothing really has made you happier, and that is why you are here today."
As the bishop prayed after the intercessions, "Loving Father, marriage represents the covenant between your Son and the church and is fulfilled in the celebration of the Eucharist. As we come before you now in this celebration, may we be so joined to Christ that we are joined to each other in a bond that shows your unfailing love for us."
At the liturgy's conclusion, St. Lucie's pastor, Conventual Franciscan Father Mark Szanyi, expressed how happy the parish is to host the annual anniversary celebration and welcome Bishop Barbarito.
The couples were invited to pose for photos with the bishop and take home a small box of cookies prepared for them.
Afterward, several husbands and wives talked about the highs and lows of married life.
Larry and Mary Ellen Williams of St. Lucie Parish, who are celebrating 55 years of marriage, said they are hoping to enjoy many more years together — God willing.
"When we got married, the priest said to give 150 percent each. We're both doing that," Larry said, with Mary Ellen adding, "And you have to have Jesus in your marriage."
A couple from St. Joseph in Stuart, Phil and Annamarie Wintercorn, also marking 55 years, talked about the vital aspects of "love and communication and practicing the faith together." Phil jokingly added that, to have a long marriage, it's also important to "stay away from divorce lawyers."
The second of the two annual diocesan wedding anniversary celebrations is set for 10:30 a.m. Saturday, Feb. 18, at St. Jude Church, 21689 Toledo Road in Boca Raton.
For information on marriage programs in the Diocese of Palm Beach, visit www.diocesepb.org/ministriesoffices/ministries/marriage-family-life-faith-formation-youth-ministry/marriage-ministry/. To see upcoming events of all types, go to www.diocesepb.org/news/.