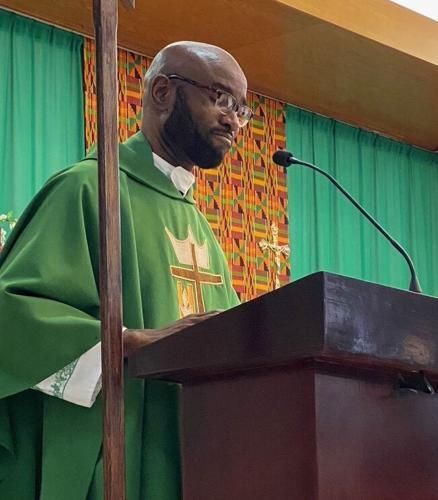 RIVIERA BEACH | At a Feb. 4, 2023, Mass with Bishop Gerald M. Barbarito marking Black History Month at St. Francis of Assisi Church in Riviera Beach, a visiting priest presented a call to action for those thirsting for rights, justice and peace.
Father Cyril Imohiosen, a Nigerian priest who is a member of the Society of African Missions and a student at Palm Beach Atlantic University in West Palm Beach, urged parishioners in his homily to reach out to neighbors and be a positive influence in their communities and workplaces.
Speaking about his challenging experiences as a missionary in Tanzania, Father Imohiosen recalled incidences of ritual killing and elderly women being accused of witchcraft in order to steal their possessions.
"As a missionary, I had to speak out against this," he said. "I had to shelter and protect these poor women and children from extortion, injustice, … Just as Martin Luther King never remained silent, the prophet invites us to speak out. Dear friends, are you speaking against all these or are you a perpetrator encouraging them? What is your relationship like with the people that live in your neighborhood? How sensitive are you to them? As we celebrate our love, our togetherness and our heritage as a people, let us listen to the voice of the prophet today."
In the day's first reading (Is 58:7-10), the prophet Isaiah tells the people of Israel to share their bread with the hungry, shelter the oppressed and homeless, and remove persecution from their midst.
"As he speaks to the Israelites, he speaks to each of us today," Father Imohiosen said. "He invites us to be our brothers' and sisters' keeper. He invites us to live a life of justice. He invites us to live a life of love. He invites us to live a life of forgiveness and righteousness in whatever situation we find ourselves in. Regardless of where we come from, our race, our inclination, etc., we are all one in Christ Jesus."
Connecting the Gospel reading (Mt 5:13-16) to societal needs, he encouraged all to be salt and light in the world.
"The presence of Christians in the world must be like light in the darkness," Father Imohiosen said. "The light allows others to witness the acts of justice and love that followers of Christ perform. Just as a few grains of salt can make a big difference in food, so also a few faithful Christians can make a big difference in the world with their shining lights."
For more information on St. Francis of Assisi Parish, which will celebrate its 75th anniversary March 18-19, visit https://stfrancisofassisi1948.org, on Facebook at St. Francis of Assisi Catholic Church - Riviera Beach, FL or call 561-842-2482.