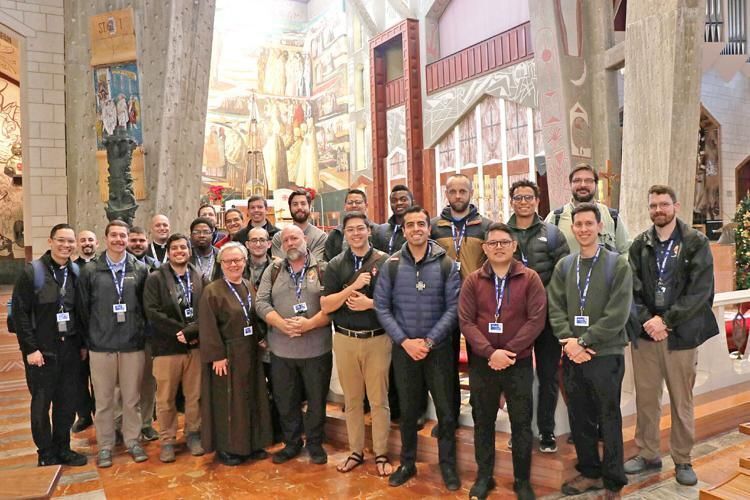 During our recent Christmas break, a group of 21 seminarians and three faculty members from St. Vincent de Paul Regional Seminary participated in a 10-day pilgrimage to the Holy Land.
We spent the first few days in the northern region of Galilee visiting the sites of our Lord's youth and early ministry: the site of the Annunciation, Sea of Galilee, the Mount of the Beatitudes and Caesarea Philippi. Our final stop before leaving the northern region was Mount Tabor, site of the Transfiguration of Jesus, which was detailed in the Gospel reading for March 5.
We spent the second part of our trip in Jerusalem inside the old city walls. There are too many holy sites in and around Jerusalem to mention here, but some of the highlights were Bethlehem, just a few minutes from Jerusalem, the Mount of Olives, the Church of St. Peter in Gallicantu and, of course, the Church of the Holy Sepulchre.
The trip was incredibly powerful, and touched all of us in deeply intimate ways. I'm certain each of us brought something unique and personal back home that will continue to nourish our relationship with Christ and the church. Something that will serve to give life and hope to our ministry as disciples of Christ and, God willing, his priests.
Speaking for myself, I can say that my experience on Mount Tabor was particularly consoling and enriching. It was where the Lord revealed his glorified body to Peter, James and John. This vision was meant, in part, to give the disciples the faith they would need to endure with hope the passion and death of Jesus.
We had Mass in the crypt of the beautiful Church of the Transfiguration, where above the altar is the inscription Domine bonum est nos hic esse, "Lord, it is good that we are here."
Indeed, for the Christian it is always good that we are here, wherever "here" may be. Be it amid the joy of friends and relatives or in the sorrow of loss and suffering. It is good that we are here, be it as pilgrims in this world or as the blessed in heaven. For the Christian, it is always good because he or she is always with the Lord.
I hope as many people as possible can visit the Holy Land — especially priests and seminarians.
To learn more about the Diocese of Palm Beach's Office of Vocations and Seminarians, visit https://palmbeachvocations.com/ or follow the office on social media at www.facebook.com/pbvocations/ and www.instagram.com/pbvocations/.
Preble is a seminarian for the Diocese of Palm Beach who is serving a pastoral year at the Cathedral of St. Ignatius Loyola in Palm Beach Gardens.