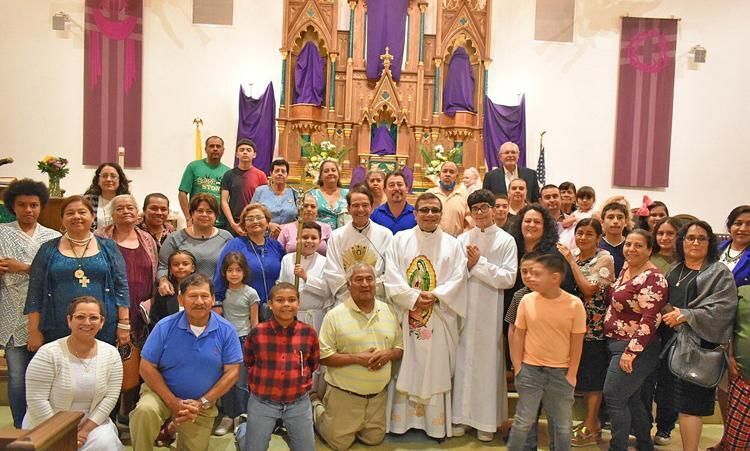 PAHOKEE | It was with joy and thanksgiving that St. Mary Parish in Pahokee marked its 90th anniversary March 13 with a Mass celebrated by Father Juan Raúl Cárdenas, pastor, and Father John Mericantante, pastor emeritus.
St. Mary Church, referred to by the parish as "Bethlehem of the Diocese of Palm Beach," is home to the 16th-century Russian-jeweled icon of Our Lady of Bethlehem, where many visitors come on pilgrimages. Father Mericantante said, "When I first came here in 1993, it reminded me of Bethlehem."
Longtime parishioner Ivania Larios said, "90 years is a historic moment for me and unforgettable because I have participated 30 years here and it is like a third of my life. I am thankful that Father John and Father Raúl bring the love of Jesus to all of us."
Welcoming everyone, Father Cárdenas said, "Today, we celebrate the 90th anniversary of our parish. Our big celebration for our feast of this 90 years will be on Sept. 8, when we celebrate our patroness, the Blessed Virgin Mary."
Father Mericantante gave the homily that presented a history of St. Mary, which he described as "quite a journey from March 13, 1933, to March 13, 2023."
"Addie Wilder, who wrote the history of St. Mary, once said to me in 1993 on our 60th anniversary that St. Mary was a church that had legs, because it was first the mission of Clewiston, then the mission of Indiantown and then the mission of Belle Glade," he said.
Father Mericantante offered a tribute to the many donors, volunteers and parishes for their collaboration of generosity, making it possible for St. Mary to be built and to expand to the dynamic parish it is today.
"Col. Bradley, a millionaire and casino owner, helped build the old St. Ann Church in West Palm Beach," he said. "When he built the new St. Ann's, he donated the old stained-glass windows to St. Mary in Pahokee, which still are there today. The new church hall was built by the Salesians.
"We were given a miraculous Russian icon from the House of Khan in Palm Beach, which was able to touch people's hearts," Father Mericantante added. "In the end, it gave us more land and a brand-new church for $3.75 million, fully paid on the day Bishop Barbarito came to bless the new church on Sept. 8, 2012, the feast day of the birthday of the Blessed Virgin Mary."
After the Mass, Father Cárdenas told the Florida Catholic, "This was a thanksgiving Mass to express our gratitude to God for these 90 years," reflecting on St. Paul's second letter to the Corinthians (9:10-11): "The one who supplies seed to the sower and bread for food will supply and multiply your seed and increase the harvest of your righteousness. You are being enriched in every way for all generosity, which through us produces thanksgiving to God."
Father Cárdenas explained, "What we are celebrating today is like what St. Paul said: Somebody sows the seeds and the plants grow, and someone else takes care of the plants, and other people enjoy the harvest. Then they are sowing again and planting again. That is what we celebrate today."
For more information, visit https://stmarysofpahokee.com/, email office@stmarysofpahokee.com or connect on Facebook. To schedule a pilgrimage to view the icon, call 561-924-7305.