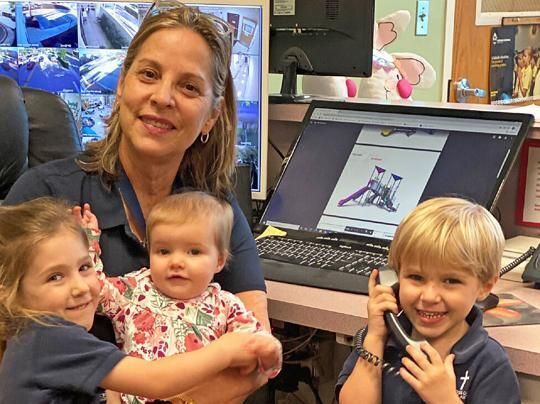 WEST PALM BEACH | "They light up my life," said Ana Fundora about interacting with the young children at Holy Cross Catholic Preschool and Center in West Palm Beach, where she is executive director.
"It's usually the adult aspects of the job that are the more challenging parts," she said. "The paperwork and the meetings, that's just part of the job. The challenging part is the adult interactions. Children are a joy, especially at this age."
The preschool serves families with children starting at 3 months up to age 5, when they "graduate" with cap and gown. The school is at capacity with 103 students and 25 staff members, with hopes of expanding, Fundora said.
The original vision for Holy Cross CPC was to have it mirror the services offered for struggling migrant and immigrant families at Hope Rural School in Indiantown. Now, many young professional families choose the preschool because of the quality it offers.
"I have principals come to me and say, 'We want your students because they're so well prepared,' because they have had students from Holy Cross in the past," she said. "In fact, one area public school has kindergarten ambassadors, and of their kindergarten ambassadors, six of them were from Holy Cross."
The preschool is in the west wing of the building. In the east wing is a literacy center with as many as 50 students that teaches English as a second language and life and job skills for the immigrant community.
"We offer adult literacy, and that classroom is a United Nations in itself," Fundora said. "We have people from Africa, India, Egypt, Colombia, Mexico, Cuba, Puerto Rico."
Through the years, the center has offered classes in things like sewing, cooking and cake decorating to give students marketable skills. "It was a truly empowering experience for them, helping them absorb their new homeland, but also retain their culture," she said.
The center also offers an afternoon homework helper program Monday through Thursday for students in the community whose parents don't know English very well.
"Our volunteers help these students complete their homework and school projects," Fundora said. "Therefore, they have success in school, and not only in school, but also self-worth and being able to accomplish what is being asked of them outside of school. That's a very successful program. So, we really do serve the entire community, from infant to adult."
She knows what it's like to be an immigrant in a new land. Born in Cuba, Fundora moved as a child with her family to Brazil, Louisiana, then Florida. Her father worked in the sugar industry, and they lived in the Belle Glade-Pahokee area.
In 1969, her family moved to West Palm Beach "because Dad wanted my brothers and I to have the Catholic school experience of Cardinal Newman. Then he would travel back and forth from the Glades. That was when it was a two-lane highway. It was a true, as a parent, labor of love. He did that for us."
After teaching pre-kindergarten students at St. Ann School in West Palm Beach, then becoming assistant principal, Fundora heard about the leadership opportunity at Holy Cross Preschool and Center, which opened in 2004 in a former Protestant church building. After an anonymous donor gave the property to the Diocese of Palm Beach, the Sisters of the Holy Cross began the school with 15 students, she said.
Fundora, who began as executive director at Holy Cross CPC in 2005, has focused on strengthening the curriculum of the early childhood program, which is her passion, while hiring capable people and raising funds for the school.
"The mission is still here, offering affordable childcare and preschool to all children, because childcare and preschool have become unaffordable," she said. "The wealthy should not be the only ones having high-quality childcare and early childhood education. We should be able to offer that to all students of all different economic backgrounds."
As a self-supporting school, Holy Cross CPC has relied on relationships with individuals and parishes to enhance its facilities. Many items at the school were donated by wealthy benefactors, and the colorful stained-glass windows in the school chapel were part of the original church building.
"We're very blessed that St. Paul of the Cross Parish has taken us under their wing," Fundora said. "When the school was founded, the pastor of St. Paul of the Cross, Father Art Venezia, was on the board here, and he was very influential in having parishioners of St. Paul of the Cross be a part of Holy Cross CPC.
"There have been a lot of trials and tribulations with this building," she said. "Bishop Barbarito is wonderful. He's so supportive. Our doors, I don't think, would be open if it wasn't for the support of Bishop Barbarito and our superintendent, Gary Gelo."
Fundora said she is hoping to schedule a special anniversary celebration next year to mark 20 years of education at Holy Cross CPC. "It has taken a lot of love to keep this school open, a lot of hard work, a lot of joy, a lot of tears. But we've done it," she said.
When she took the helm in 2005, Fundora said she was warned about the difficulties of the job. Friends asked, "Do you know what you're taking on? Do you know the financial implications of that school?"
"I took it on, and I say, with the help of volunteers, with dear friends and with hard-working families and staff, we've been able to conquer and keep our doors open. And we are thriving."
For more information about Holy Cross Catholic Preschool and Center, 930 Southern Blvd., visit https://holycrosscpc.org or call 561-366-8026. For all schools in the Diocese of Palm Beach, go to www.diocesepbschools.org.