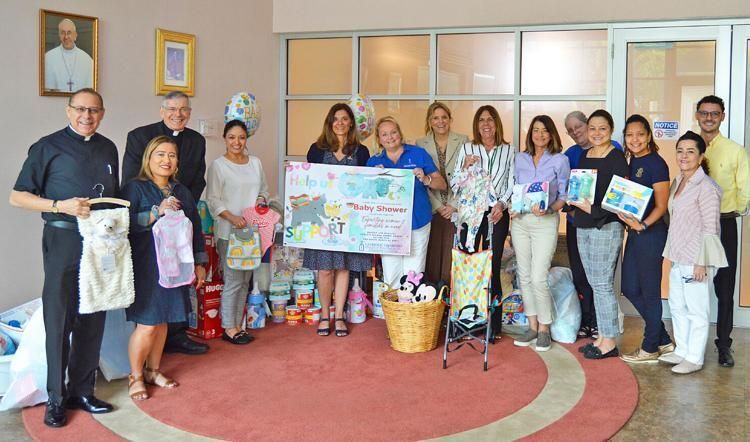 The call went out in March for donations of new and gently used baby items to help expectant mothers and struggling families through Catholic Charities' Birthline/Lifeline Pregnancy Care Program. Benefactors in the Diocese of Palm Beach were encouraged to deliver the items during April as part of the Walking with Moms in Need campaign.
Employees at the diocesan Pastoral Center in Palm Beach Gardens heard the plea and responded with compassion and big hearts. Donated items included baby clothes, food, diapers and wipes, car seats, strollers, blankets, toys and bathing items were collected.
Father Albert Dello Russo, diocesan chancellor and board vice president for Catholic Charities, was grateful for the gifts that were given. "As a member of the Catholic Charities Board of Directors, I am greatly appreciative of the generosity and kindness of the Pastoral Center employees. A call came out from Catholic Charities for help and support and our Pastoral Center staff rose to the occasion with great enthusiasm."
Anyone who wasn't able to donate items or contribute financially can still do so by contacting Birthline/Lifeline in Boynton Beach at 561-738-2060, West Palm Beach at 561-282-1467 or Fort Pierce at 772-241-5863. Monetary donations can be made online at www.ccdpb.org/get-involved/donate.html. To learn more about the work of Catholic Charities and its vital social service programs, visit www.ccdpb.org.