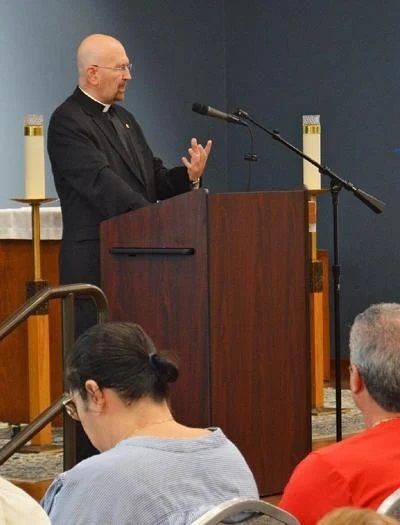 PALM BEACH GARDENS | All 12 main world religions believe in the existence of some type of angels, said Father Albert Dello Russo, and studies have found that eight out of 10 people believe in the celestial beings. Even though many accept them as fact, there is not a lot of understanding about what they are and why they exist.
Father Dello Russo, chancellor of the Diocese of Palm Beach and a canon lawyer, gave a presentation on angels April 30 in the Family Life Center at the Cathedral of St. Ignatius Loyola. His talk, attended by nearly 200 people, was sponsored by the St. Ignatius Women's Guild.
"Everybody's heard of angels, but there's so little that most people know," he said. Movies, novels and other stories have muddied the current beliefs on angels, he added.
"Angels are spiritual beings. They're not human, so they don't have a soul," Father Dello Russo said. "They're created by God, they are naturally invisible to the human eye, but they're all around us and constantly carrying out the tasks that God has given to them."
He said there is a famous image showing the difference between what humans see at Mass and what is occurring outside their understanding. The image depicts angels surrounding the altar, praising God and doing the tasks given to them by God.
Some people claim they have seen angels. "My answer to that would be, if it helps you in your spiritual life, if it brings you closer to God, then go with it. If it works for you, let it work for you," Father Dello Russo said. "I would say that about almost any kind of spiritual thing, whether it's some of the approved apparitions or the non-approved apparitions. If they work for you, go with them."
The main part of the presentation focused on the naming and ranking of angels, which are divided into three categories and nine orders or choirs: seraphim, cherubim and thrones; dominions, virtues and powers; and principalities, archangels and guardian angels.
In nearly every Mass, words are spoken that refer to angels, "except that you don't know that that's what they refer to," he said. One of the preface prayers for Advent says: "And so with angels and archangels, with thrones and dominions, with all the hosts and powers of heaven, we sing the hymn of your glory as without end we acclaim."
"So, thrones, dominions and powers. Those are angels. Those are different classes of angels," Father Dello Russo said.
"This traditional ordering of angels is an accepted Catholic belief, but not officially part of Catholic Church dogma. So, as much as we traditionally believe this, it's not 100 percent that we can prove all of this," he said.
Much of his talk was based upon Scripture and other ancient texts, backed up by the writings of saints and a book by Peter Kreeft called "Angels and Demons: What do we really know about them?" (Ignatius Press). Pope St. Gregory the Great and St. Thomas Aquinas also wrote and spoke about the classification of angels, Father Dello Russo said.
St. Paul's letter to the Ephesians (1:18-21) mentions angels, he said, though most people don't know it: "May the eyes of your hearts be enlightened, that you may know what is the hope that belongs to his call, what are the riches of glory in his inheritance among the holy ones, and what is the surpassing greatness of his power for us who believe, in accord with the exercise of his great might, which he worked in Christ, raising him from the dead and seating him at his right hand in the heavens, far above every principality, authority, power and dominion, and every name that is named not only in this age but also in the one to come."
Some beliefs about angels, Father Dello Russo said, are "drawn from other sources, some of which are apochryphal, meaning that they're not believed to be from necessarily authentic sources, but we believe that they have value." One of those sources is the Book of Enoch, an ancient Hebrew text ascribed to a holy man mentioned in Chapter 5 of the Book of Genesis.
At the end of his presentation, Father Dello Russo answered questions from the attendees. He encouraged anyone with the time to do their own research to learn more about angels.
To learn about upcoming events in the Diocese of Palm Beach, visit www.diocesepb.org/news/.