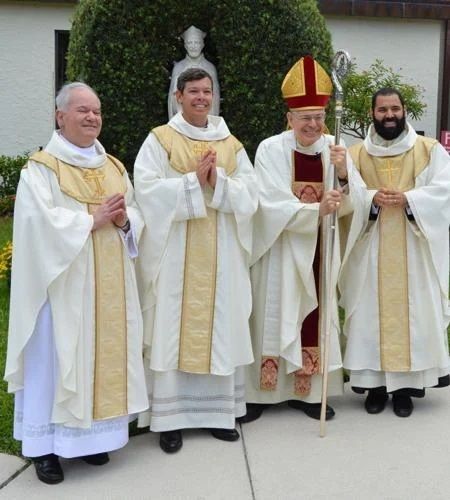 PALM BEACH GARDENS | The May 6 ordination of Father Marc Gustinelli was perhaps not as full of pomp as the crowning of England's King Charles III earlier in the day, but it was not lacking in significance for many of the faithful of the Diocese of Palm Beach, beginning with his mother, Lisa Gustinelli.
"So many emotions. It was funny that this morning was also the coronation," she said before the Mass. "When I got up early and turned that on and was just thinking about today and our coronation of sorts, I had to text Marc. I told him that it's such a proud moment. Also, thinking of all the years of raising him in the church, all I would want for any of my children would be to have a strong faith in God and be good and kind people, and that's exactly who he is. It's very emotional even just to tell you about it."
Bishop Gerald M. Barbarito presided at the ordination liturgy, assisted by priests and deacons of the diocese. The ancient ceremony features the introduction of the candidate for ordination, with seminary rector Father Alfredo Hernández proclaiming his worthiness; the promise of the elect, with then-Deacon Gustinelli agreeing to live his priesthood in imitation of Christ; the elect prostrating himself on the floor while the congregation prays for the saints' protection; the laying on of hands and kiss of peace by his brother priests; and anointing of his hands with holy oil.
"Understand what you do, imitate what you celebrate and conform your life to the mystery of the Lord's cross," Bishop Barbarito said in presenting the chalice and paten, symbols of the priestly office, to Father Gustinelli.
In his homily, the bishop reflected on St. Paul's encouragement "to pray without ceasing, to rejoice always and to give thanks in all things" (1 Thes 5:16-18), which are essential characteristics of a priest's life. (For Bishop Barbarito's homily, see Page 2 of this e-edition.)
During the ordination rite, the bishop prayed to God for the new priest, saying, "By the example of his manner of life, may he instill right conduct. May he be a worthy co-worker with our order so that, by his preaching and through the grace of the Holy Spirit, the words of the Gospel may bear fruit in human hearts and reach even to the ends of the earth."
Symbolizing his change of roles, Father Gustinelli removed the deacon's dalmatic and put on the priest's chasuble, along with changing his stole, which is worn differently by deacons and priests. Helping him change vestments were Father Dennis Gonzales, pastor of his home parish of St. Vincent Ferrer in Delray Beach, and Father Christian Chami of the Diocese of Venice, who entered St. John Vianney College Seminary in Miami with Father Gustinelli.
"Seeing my good friend's ordination makes me feel very emotional. I'm very proud of him," said Father Chami following the ordination.
At the end of the Mass, Bishop Barbarito thanked Father Gavin Badway, cathedral rector, the cathedral staff, the diocesan and parish music ministry, seminarians, Father Brian King and Father Andrew Brierley for helping to make it a beautiful Eucharistic celebration.
The bishop encouraged any young person in attendance to reflect on whether God might be calling them to the priesthood or religious life. "That's a real possibility," he said. "And I ask all of you in your families not to hesitate to encourage young men to consider the priesthood. As Father Marc has answered that call and my brother priests have, we know the joy that comes, and we know the need that there is today."
Being aware that many parishioners were anxious to know where Father Gustinelli will be assigned, Bishop Barbarito added that the new priest will serve St. Ann Parish in West Palm Beach, beginning July 1. One of St. Ann's members, Josette Naude, said afterward that she is excited to have Father Gustinelli back at her parish, which he served as a seminarian, especially since he speaks French as she does.
Mingling in the cathedral's patio after the Mass, many people voiced similar enthusiasm for the new priest and what his ordination means for the local church. Kathy Reese of the Serra Club of South Palm Beach County said the liturgy was emotional for her.
"I cried through most of it. It's awesome to know them as seminarians and to watch them grow and see them become a priest. It's just unbelievable. It's an honor," she said.
In the cathedral's Family Life Center, where food was provided, Father Gustinelli gave blessings to individuals, couples and groups. Family members and friends talked about their relationship with him and how meaningful his ordination is to them.
Maxwell Villwock, who knows Father Gustinelli from when they were in seminary together, said, "For me, going to the ordinations of my friends and old buddies, it's always hopeful. It's a reminder that the church is a growing thing. You get to see your friends really mature into this role. Then it also brings into mind everybody's vocation, the call to holiness. So, it's a great reminder of our role, too."
Father Gustinelli's family members reminisced about his new life as a priest. His father, Bruno Gustinelli, said, "I'm so happy. Once in a lifetime or once in generations you have someone in your family who becomes a priest."
Joanna, Father Gustinelli's sister, echoed her mother's comments about his suitability for priestly service.
"I'm just really proud of him," she said. "I'm his little sister, so this is just perfect for Marc. He's just the kindest, most giving person. I couldn't imagine him in any other position."
To watch the recording of the ordination Mass, visit www.youtube.com/watch?v=nC5uIB9QWiM. For information on vocations to the priesthood and religious life, contact Father Daniel Daza-Jaller, diocesan director of vocations and seminarians, at 561-775-9552 or vocations@diocesepb.org, by visiting www.palmbeachvocations.org or following the office on Facebook and Instagram.