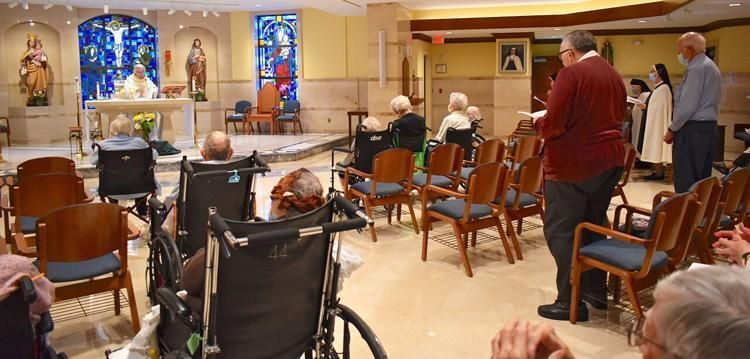 WEST PALM BEACH | On the eastern edge of West Palm Beach next to the Intracoastal Waterway is the Lourdes-Noreen McKeen Residence served by the Carmelite Sisters for the Aged and Infirm. On July 17, the sisters, along with staff, residents, families and friends, celebrated an important Carmelite feast day for Our Lady of Mount Carmel, patroness of the Carmelite order, which is usually marked July 16.
Carmelite Father Richard Champigny of St. Jude Parish in Boca Raton officiated at a Mass honoring Our Lady of Mount Carmel in the Skaff Family Chapel. He blessed the Carmelite brown scapulars that were distributed to the faithful.
Before Mass, Carmelite Sister M. Kevin Patricia Lynch, CEO of the residence for senior citizens, spoke to the Florida Catholic. "After COVID, we have been trying to get back to normal, whatever normal may be. We have daily Mass every day at 11 a.m., and we continue to promote our devotion to Mary," she said. "We realize how important Mary is as a model to all of us, especially to our residents."
Sister Lynch read an excerpt from a liturgical booklet prepared by the Carmelite sisters. "The scapular has been a powerful devotion in the church for almost 800 years," reminding people that, as we admire Mary, "we are also encouraged to imitate her in her complete abandonment in faith and love to the will and providence of God."
Carmelite Sister Ann Dailey, pastoral care director, presented a brief history of the feast of Our Lady of Mount Carmel. "Mount Carmel in the Holy Land is associated with the holy hermits dating before the time of Christ," she said.
When the European Christian hermits in the 12th century came to Mount Carmel, Sister Dailey said, they "dedicated their chapel to 'Our Lady of the Place.' This title eventually became known as 'Our Lady of Mount Carmel.'"
In a powerful vision of Our Lady, St. Simon Stock received the brown scapular from Our Lady of Mount Carmel "as a sign of her motherly love and protection for the infant Carmelite order and for all those who devoutly use the scapular and turn to her in their need," she said.
Father Champigny explained in his homily that "the scapular is the sign of the promise Mary made to St. Simon Stock way back around the 12th century, that those who wear the scapular will see paradise after death."
There are many Carmelite saints, including St. Titus Brandsma, canonized on May 15, 2022, by Pope Francis in St. Peter's Square in Vatican City.
The necessary miracle for his canonization cause occurred in the Diocese of Palm Beach when Carmelite Father Michael Driscoll was cured of advanced metastatic melanoma. The cure was attributed to the intercession of Blessed Titus Brandsma, who was a Carmelite priest from the Netherlands.
Father Champigny, speaking of St. Titus's Carmelite spirituality, said, "Mary was his focus on the cross, and his beautiful prayer before the image of the cross echoes Mary's presence and her tenderness. Each Carmelite saint has his or her own way to emulate their mother, Our Lady of Mount Carmel.
"For example, at Lourdes-Noreen McKeen, you see the charism lived out in the dear sisters, who not only serve you, but certainly love you and pray for you each day. You are the fruit of their prayer," he said.
Ending his homily, Father Champigny sang a song that he wrote some years ago in honor of Our Lady of Mount Carmel. "It was based on the beautiful prayer of St. Simon Stock, Flos Carmeli, the Flower of Carmel," he said.
The Carmelite Sisters for the Aged and Infirm are praying for the beatification of their foundress, Venerable Mother Angeline Teresa McCrory, who was declared Venerable by Pope Benedict XVI on June 28, 2012.
For a venerable to be proclaimed a blessed, there must be an approved miracle attributed to the person's intercession. "In official church procedures, there are three steps to sainthood: a candidate becomes 'Venerable,' then 'Blessed' and then 'Saint.' Venerable is the title given to a deceased person recognized formally by the pope as having lived a heroically virtuous life or offered their life," according to the U.S. Conference of Catholic Bishops.
For more information or if anyone believes prayers were answered through Venerable Mother Angeline Teresa's intercession, contact the Carmelite sisters at www.carmelitesisters.com or write: The Postulator's Office, Carmelite Sisters for the Aged and Infirm, 600 Woods Road, Germantown, NY 12526. To learn more about the Lourdes-Noreen McKeen Residence, visit https://lourdesmckeen.org/ or 561-655-8544.