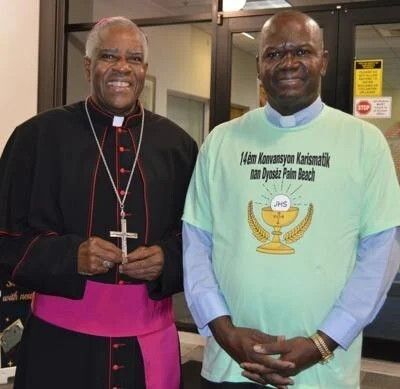 DELRAY BEACH | Bishop Jacques Fabre-Jeune of Charleston, South Carolina, was the featured speaker at the 14th Haitian Charismatic Convention of the Diocese of Palm Beach Sept. 15-17, in the gymnasium at St. Vincent Ferrer School, which included Mass, rousing music, prayers and inspiring talks, opportunities for the sacrament of penance and other activities, all in the Creole language.
A member of the Scalabrinian religious order, Bishop Fabre-Jeune was born in Port-Au-Prince, Haiti, and served from 1990-91 as parochial vicar at Our Lady of Perpetual Help Mission in Delray Beach. He is familiar with the Diocese of Palm Beach's outreach to Haitians, Hispanics/Latinos and other cultures throughout the Palm Beaches and Treasure Coast.
The bishop, who previously served as spiritual director to the Charismatic Renewal in the Archdiocese of Atlanta, said there is a strong and active Haitian charismatic movement in the United States and around the world. Asked to summarize his message to those attending the Delray Beach convention, Bishop Fabre-Jeune said, "The main topic is on the Eucharist. How God, even in our differences, can always use us.
"The image I'm going to take is the hammer and the square," he said. "They're having a meeting, and the hammer is supposed to be the president. They say, 'You cannot be the president because you hammer too much and make too much noise.' He says, 'If I'm going, then the screwdriver has to go with me also because he's making too many turns.' So, each one finds a defect in one another, and at the end the carpenter comes in and uses the hammer, the square and the screwdriver according to their gifts. I compare them with us. God brings all of us together with different gifts as the church, then we can create the best furniture, which is life, which is the kingdom of God."
On Sept. 15, the feast of Our Lady of Sorrows, the bishop said he would talk about the sufferings of today's Haitian women. "But there's hope that Jesus will give us life," he said. "I'll use a few Haitian proverbs. One of them is 'the rock in the river does not know the pain of the rock under the sun.' So, when you're having a good life, sometimes you forget about the suffering of others."
For information about the diocese's outreach to Haitians, contact Our Lady of Perpetual Help Mission (http://www.perpetualhelpmission.org; email perpetualchurch@att.net), Notre Dame Catholic Mission in Fort Pierce (https://notredamecc.com; notredamecatholicmission@hotmail.com), Our Lady of Faith Haitian Center of St. Ann Parish in West Palm Beach (call 561-223-2762) or St. Philip Benizi Parish in Belle Glade (https://stphilipbenizi.com; stphilipbenizicc21@gmail.com).
To read this and other stories in Florida Catholic, click here.