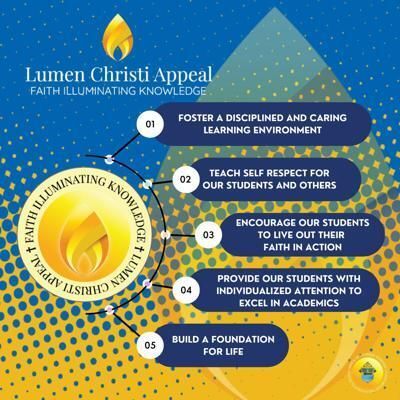 PALM BEACH GARDENS | The annual Lumen Christi Appeal, which strives to meet the needs of Catholic schools in the Diocese of Palm Beach, has begun, aiming to help "build learning communities based on the Gospel message of Jesus Christ and rich in Catholic values and tradition," said Bishop Gerald M. Barbarito in his 2023-24 video.
As he explains that the theme, "Faith Illuminating Knowledge," is the guiding principle behind this year's appeal, the bishop invites potential donors to learn more about the 18 Catholic schools that benefit from the campaign.
"The schools have a commitment and a responsibility to teach the whole child in mind, body and spirit," Bishop Barbarito says. "In developing the gifts, talents and uniqueness of their students, the schools seek to prepare leaders and Christian stewards as a beacon of hope for the church of the future."
All of the proceeds from the Lumen Christi Appeal are allocated to the three preschools, 12 elementary schools and three high schools for special projects. Statistics show that funding Catholic schools pays big dividends.
"The Nation's Report Card," an annual comparison of public, private and charter schools in the United States that was recently released, shows that Catholic schools surpass the others in almost every grade level and subject area.
Step Up For Students, a Florida nonprofit that administers the state's education choice scholarship programs, in a special report, "Why Catholic schools in Florida are growing: 5 things to know," identified factors that have aided Catholic education in the state. Those five reasons are growth, diversity, choice, competition and innovation, all factors that speak to the quality, credibility and accessibility that Catholic schools embody.
Gary Gelo, superintendent of Catholic schools, has seen the effects of the Lumen Christi Appeal in the Diocese of Palm Beach and encourages anyone able to help to join the campaign.
"All of our Catholic schools are grateful to the many donors who support the Lumen Christi Appeal," he said. "If you are considering a gift, please know that your generosity is essential to the success of our Catholic schools. Our schools realized over a 6% increase in enrollment last year, and we continue to grow in the light of Christ as our 'Faith Illuminates Knowledge' in our Catholic schools."
To learn more about the Lumen Christi Appeal, watch the bishop's video (https://vimeo.com/845088105) and donate funds, visit https://www.diocesepb.org/lumen-christi/. Read the reports cited in this article at https://www.nationsreportcard.gov/dashboards/schools_dashboard.aspx and www.reimaginedonline.org/2023/08/five-things-to-know-about-catholic-schools-in-florida/.
To read this and other stories in Florida Catholic, click here.