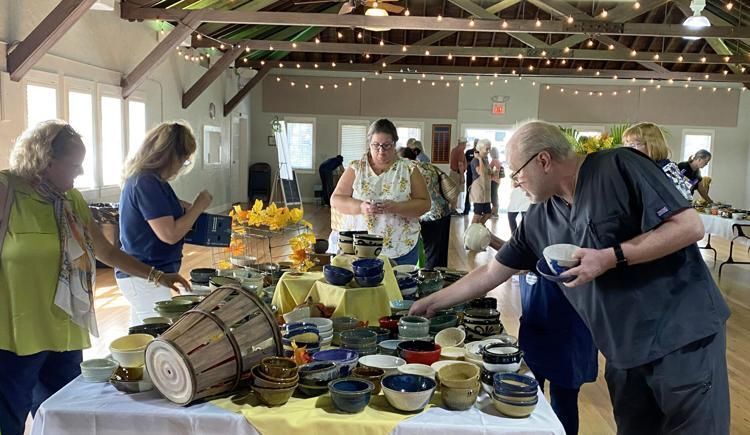 VERO BEACH | The 31st annual Soup Bowl fundraiser for Catholic Charities' Samaritan Center will be Thursday, Nov. 2, at The Heritage Center, 2140 14th Ave. in Vero Beach, and at area businesses, places of worship and other organizations. A variety of handmade pottery bowls and soup will be available for donations to support the Samaritan Center's efforts to provide transitional housing and guidance to homeless families in Indian River County.
"With the simple act of buying a bowl of soup, anyone can join the Samaritan Center in helping families in our community to transition from homelessness to living independently," said Renee Bireley, Samaritan Center's development manager. "You'll help some of the neediest in our community, and get artfully crafted bowls for gifts, keepsakes and as meaningful symbols of your kindness — all for a modest donation."
Through a partnership with the nonprofit Indian River Clay, she said, ceramic artists and volunteers contribute their time and talent to create bowls that are then displayed for sale ($20 each) at The Heritage Center and other locations.
"Indian River Clay potters will donate over 1,200 bowls this year," said Glenda Taylor of Indian River Clay. "It's a humble fundraiser with a huge impact. For the modest cost of a bowl of soup, you can help change the lives of homeless families in our community."
Soup donated by local country clubs will be served by The Source's Dignity Food Truck at The Heritage Center. Other locations will offer their own culinary creations for a suggested donation of $5 per cup, $15 per quart.
"If you want to get your soup and take it home and serve it up in your beautiful hand-crafted pottery bowl, you're welcome to do that because they're microwave-safe and dishwasher-safe," Bireley said.
Robyn Berry, executive director of The Heritage Center, said, "The Heritage Center was one of the very first, if not first, locations for the Samaritan Center's Soup Bowl. We are pleased to play a part in such an important community event. As Vero Beach's first community building, it is a privilege to continue building community."
All proceeds benefit the Samaritan Center, which helps family members develop skills needed for successful reintegration into mainstream society. With its programs open to families of all faiths, Samaritan Center is a core program of Catholic Charities of the Diocese of Palm Beach and a funded partner of the United Way and Indian River County Children's Service Advisory Council.
For Soup Bowl details, visit https://www.facebook.com/SamaritanCenterSoupBowl or call Bireley at 772-770-3039.
Helping the Homeless
Locations participating in the Samaritan Center Soup Bowl event (in Vero Beach unless otherwise noted) are:
For lunch from 11:30 a.m.-1:30 p.m.:
• Billero & Billero Properties, 1021 Beachland Blvd.
• Brown & Brown Insurance, 817 Beachland Blvd.
• The Buggy Bunch, 1450 21st St.
• Center for Spiritual Care, 1550 24th St.*
• Coldwell Banker Paradise at Indian River Shores Community Center, 6001 N. Highway A1A.
• The Community Church, 1901 23rd St.
• First Presbyterian Church, 520 Royal Palm Blvd.
• Indian River County Sheriff's Office auditorium, 4055 41st Ave.
• Living Lord Lutheran Church, 2725 58th Ave.
• Mental Health Collaborative, 2345 14th Ave., No. 5.
• Offutt, Barton, Schlitt – CPA, 570 Beachland Blvd.
• ONE Sotheby's International Realty, 1006 Beachland Blvd.
• Regency Park, 910 Regency Square (41st Street and Indian River Boulevard).
• Schlitt Services, 1717 Indian River Blvd., Suite 300.*
• St. Augustine of Canterbury Episcopal Church, 475 43rd Ave.
• St. Sebastian Catholic Church, 13075 U.S. Highway 1, Sebastian.*
• Team Provancher, 333 17th St., Suite F.
• Temple Beth Shalom, 365 43rd Ave.
• Total Health Walk-In Chiropractic, 2006 32nd Ave., Suite A.
• Total Mortgage, 2907 Ocean Drive.
• Unity Spiritual Center of Vero Beach, 950 43rd Ave.
• Vero Beach Police Department, 1055 20th St.
• Vero Beach Rowing Boathouse, 310 Acacia Road.
For dinner from 4:30-7 p.m.:
• First Baptist Church Family Life Center, 2205 15th Ave.*
• Vero Beach Rowing Boathouse, 310 Acacia Road.
For lunch and dinner 9 a.m.-7 p.m.:
• The Heritage Center, 2140 14th Ave.*
* Locations offering pottery bowls.
To read this and other stories in Florida Catholic, click here.