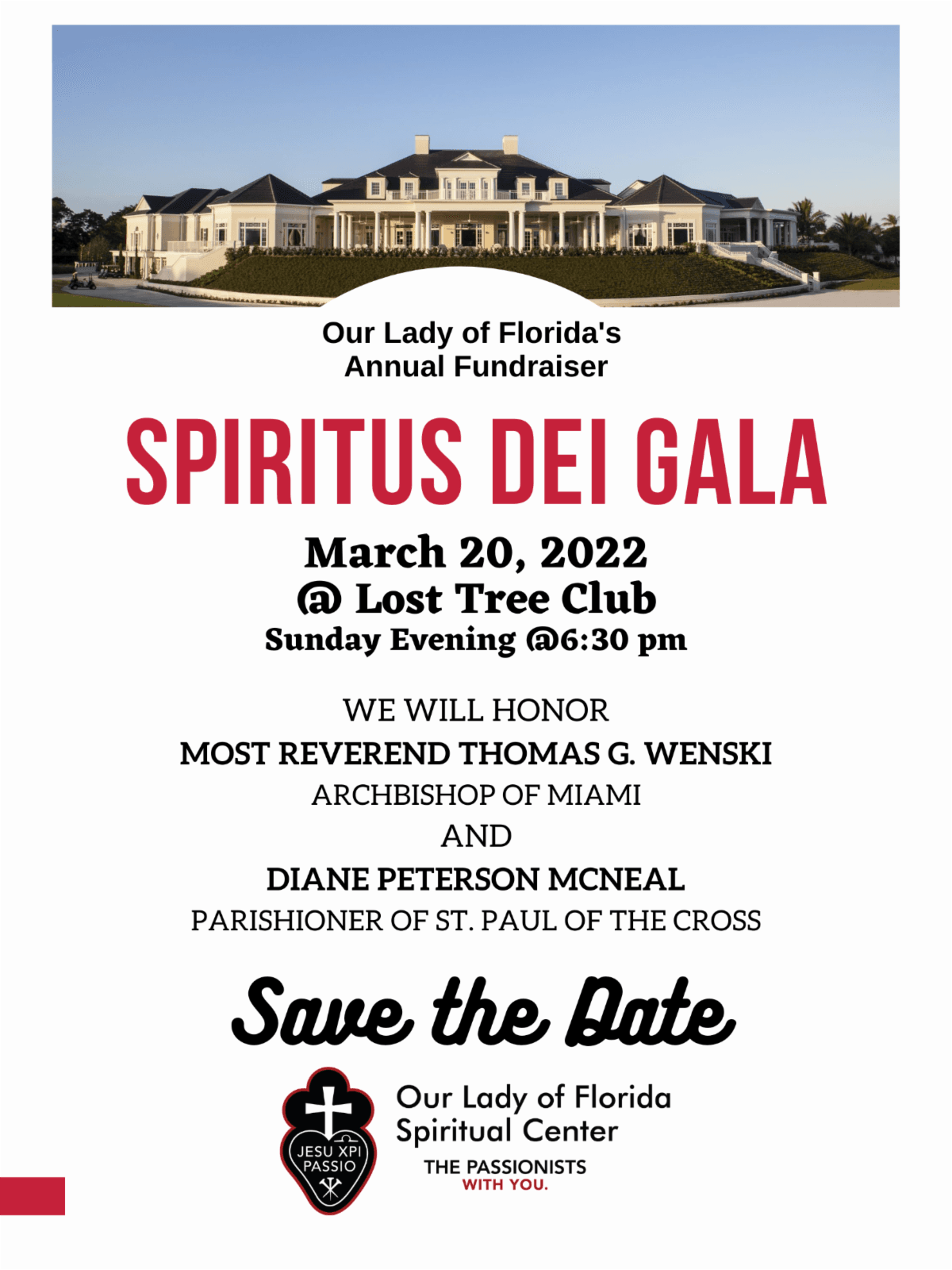 Our Lady of Florida's Annual Fundraiser at Lost Tree Club. Call for more information: 561-626-1300
Update:
Dear Friends of Our Lady of Florida,
As most of you know, our Spiritus Dei Gala, is fast approaching on Sunday, March 20 at the Lost Tree Club.
We were delighted to learn this week that the Lost Tree Club has cancelled all their pandemic protocols, no longer requiring proof of vaccination or masking. This is great news because we want to welcome back many of you to this major fundraiser which allows us to keep the doors open and the lights on.
At the gala, we will honor Most Reverend Thomas G. Wenski, Archbishop of Miami, and Mrs. Diane Peterson McNeal, parishioner of St. Paul of the Cross of North Palm Beach, for their service to the Church, the community, and their leadership in furthering our Passionist ministry of providing spiritual programs and retreats for persons of all walks of life.
For ticket information, please call our office at 561-626-1300 or email us.
If you're unable to join us on March 20, please consider taking out an ad for your family or business in our souvenir journal booklet ($125. to $500. based on size and color) or by making a donation to further our mission of preaching Christ Crucified to all peoples.
May you be richly blessed for remembering us in your prayers and with your donations. Be assured of the daily prayers of the Passionist community for all our friends and benefactors.
May the Passion of Jesus Christ be ever in our hearts!
Fr. Junesh Xavier, C.P.
Director