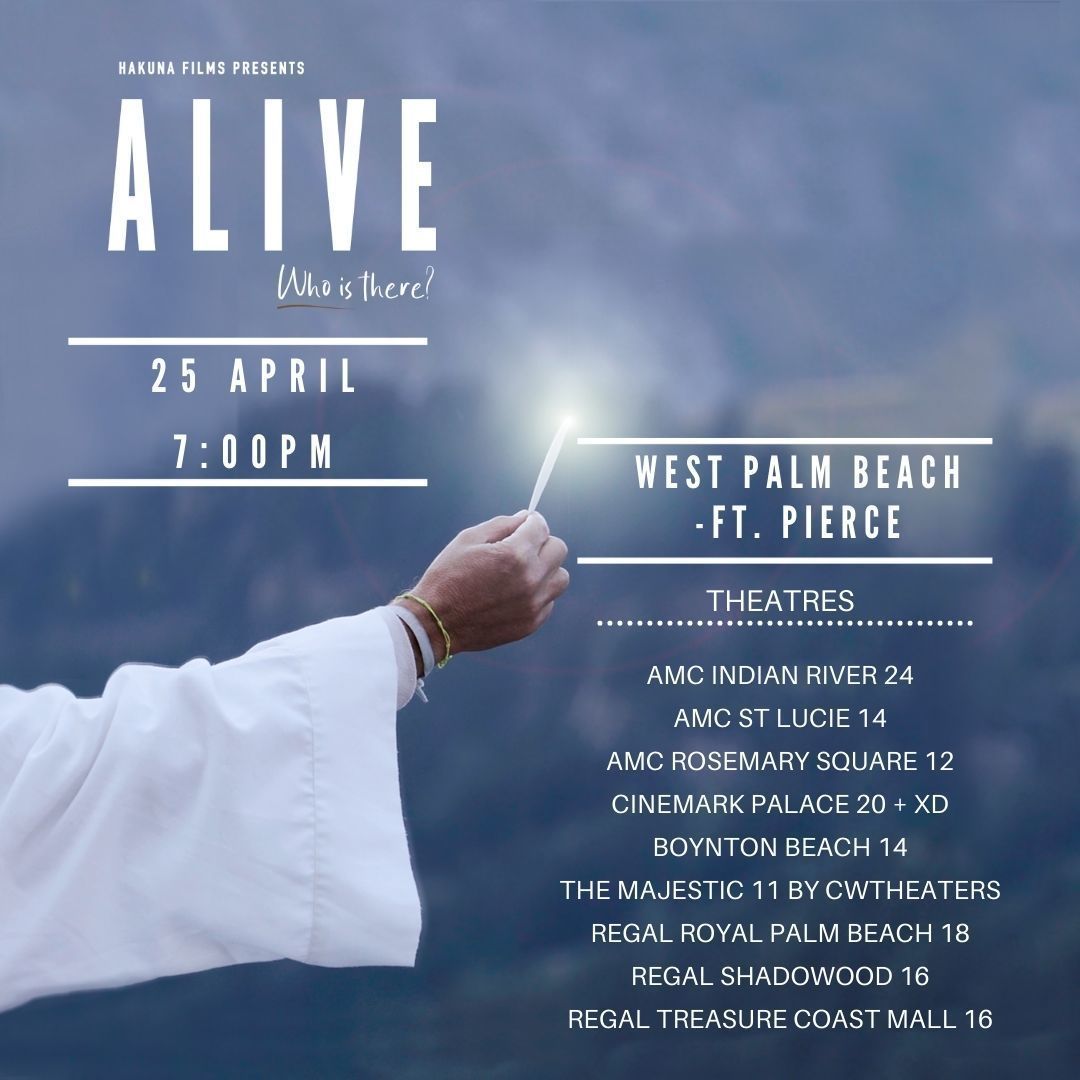 ALIVE is a brand new documentary that was made in Spain by Bosco and Hakuna Films. It tells the stories of several individuals who are transformed by their encounter with the Real Presence of Jesus Christ in the Eucharist. The film will open nationwide for one-night-only on Monday, April 25th (Monday after Divine Mercy) AND it is opening on several screens in SOUTH FLORIDA (Miami, Ft. Lauderdale, Palm Beach) and surrounding suburbs. 
We are thrilled to have this opportunity to have a documentary feature that exposes the truth of Jesus fully present on the altar in tabernacles around the world. This movie will inspire Eucharistic revival which is needed now more than ever! 
We are thrilled to announce that the movie now includes BONUS added value content featuring commentary from Bishop Andrew Cozzens (USCCB chair on Evangelization); Sr. Nancy Usselmann, fsp (Director of Pauline Media Studies) and Fathers Julian Harris (Baptist convert) and Alex Vargas from the Diocese of Palm Beach parish of St. Thomas More.
Click here to read a story about this in Florida Catholic.
Press Release:
NEW DOCUMENTARY REVEALS GOD IS ALIVE!
Spanish filmmakers bring powerful film to the United States April 25th to inspire Eucharistic Revival 
MADRID, SPAIN - March 16, 2022 – The new  Bosco Films and Hakuna Films feature documentary film ALIVE, directed by Jorge Pareja and produced by Paul Bautista is set to release in movie theaters nationwide this Easter season via  Fathom Events on Monday, April 25. The one-night-only documentary arrives in the United States after a powerful international release that inspired audiences toward Eucharistic revival.
ALIVE is a Spanish produced documentary film that brings forward the compelling testimony of five men and women with four unique stories of how their lives were transformed by the True Presence of Jesus Christ in the Eucharist: God alive. These true stories are told by real people and propose that audiences consider their testimony and the power of God in the hidden Christ contained in a white host, something many cannot see or discern and have never known. Watch the trailer here: 
"One of the charisms of Hakuna is reaching the distant ones and one of the ways of reaching distant people is through movies," said Father Jose Pedro Manglano, founder of the Hakuna movement. "That is why we decided to make ALIVE."
"This is not just a movie, but an opportunity for a movement toward greater Eucharistic devotion and something that can help create a spark of revival in the United States," said Lucía González-Barandiarán, founder of Bosco Films. "ALIVE has been and continues to be a complete surprise, a simple documentary without pretense that reached the top 10 box office in Spain and Mexico. We truly believe that the world is in need of hope and that's what this movie brings. It has already transformed many by its simplicity and has created a revolution. Now, our desire is to tug on the heartstrings of American audiences."
As part of the documentary film experience, filmmakers have included bonus content, "A Conversation About the Power of the Eucharist." After the documentary presentation of ALIVE, filmmakers will take audience-goers a little deeper for a conversation about the power of the Eucharist, the true Presence of Jesus Christ including testimony about the transforming power of God made present in the Eucharist at Catholic Masses and on altars around the world. 
"When we released ALIVE in Spain and other countries, we saw a powerful movement where the Church wanted to use this film to inspire people to truly know the power of the Eucharist and that He in fact is alive!" said Lucía González-Barandiarán. "We encourage Catholic priests, religious and families to embrace this film in the United States - see it together - and lead people back to the power of God in the Holy Eucharist." 
ALIVE will serve as a tool for Catholic dioceses, parishes, ministries and families to share the message of Jesus Christ present in the Eucharist at a time when the world is in great need of the light, hope and power of Jesus Christ. 
Tickets for ALIVE can be purchased at Fathom Events or participating theater box offices. Fans throughout the U.S. will be able to enjoy the event in select movie theaters; for a complete list of theater locations visit the Fathom Events website (theaters and participants are subject to change).
For interviews, please contact: Alexis Walkenstein, President of AWE PR at walkensteina@gmail.com or via mobile at (561) 445-5409.
ABOUT ALIVE
What would happen if you met someone who has the power to change your entire life and destiny? ALIVE tells four stories of five people who came face to face with someone that many cannot see… Jaime, Carlos, Andrea, Antonio and Sonsoles assure audiences that He is ALIVE and has brought them back to life. If you listen you can hear Him and, if you look, you can see Him, because, although it is hard to believe: There is Life. 
ABOUT FATHOM EVENTS:
Fathom Events is a recognized leader in the entertainment industry as one of the top distributors of content to movie theaters in North America. Owned by AMC Entertainment Inc. (NYSE: AMC); Cinemark Holdings, Inc. (NYSE: CNK); and Regal, a subsidiary of the Cineworld Group (LSE: CINE.L), Fathom operates the largest cinema distribution network, delivering a wide variety of programming and experiences to cinema audiences in all the top U.S. markets and to more than 45 countries. For more information, visit FathomEvents.com.