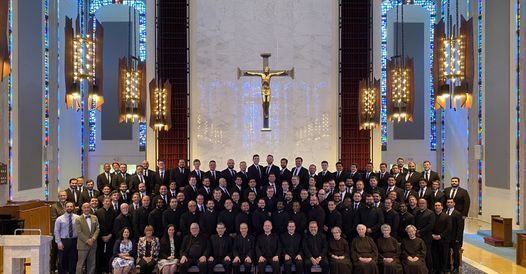 As our Diocese of Palm Beach Seminarians begin their new academic year, let us say this prayer for them:
O Lord Jesus Christ, great High Priest, I pray that You call many worthy souls to Your holy priesthood. Enlighten the Bishop in the choice of candidates, the Spiritual Director in molding them, and the professors in instructing them. Lead the seminarians daily in Your unerring footsteps; so that they may become priests who are models of purity, possessors of wisdom and heroes of sacrifice; steeped in humility and aflame with love for God and man; apostles of Your glory and sanctifiers of souls. Amen.
Mary, Queen of the Clergy, pray for us.
On August 30, join them virtually in these livestream events at St. Vincent de Paul Regional Seminary :
On Monday, August 30, we will mark the opening of the year with two important events. The Mass of the Holy Spirit to open the year will be celebrated at 4:30 p.m. The Opening Academic Exercises (Convivium Academicum) will take place at 7:30 p.m., with Fr. Tim Cusick, Academic Dean, giving an address to the seminarians. It will be live streamed and accessible at www.svdp.edu/live or www.facebook.com/SVdPSEM/