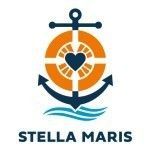 National Maritime Day is commemorated on May 22 as an opportunity to recognize the hardworking men and women of the U.S. Merchant Marine, seafarers, fishers, port personnel, and all who work or travel on the high seas for the vital services they provide in support of our nation's economic well-being and national security.
Who They Are
In 1920, Catholic port ministry was conceived and developed in Glasgow, Scotland, by Rev. Donald Macintosh, Arthur Gannon, and Peter Anson, who were concerned about the lack of witness the Church was showing aboard ship.
Two years later they approached Pope Pius XI, who bestowed his blessings on the ministry and encouraged the Apostleship of the Sea to extend its mission to the oceans and shores of all the hemispheres.
In 2020, on the occasion of the Centennial,  to reflect the universality of this mission, "Stella Maris" became the official name with which the Apostolate of the Catholic Church for the people of the sea will be known.
In every major country, a bishop serves as the Stella Maris episcopal promoter, overseeing the work of the national director. It is the director's responsibility to coordinate the individual chaplain's efforts and to assist them in developing their ministries.
Additionally, the national director's office serves as a communication center which produces a newsletter (Catholic Maritime News in the United States), establishes and maintains rapport with organizations protecting the seafarers' interests, and appeals to the diocese for port chaplains.
Each country hosts an annual conference. Tying all these national conferences together is the Vatican's Dicastery for Promoting Integral Human Development. Because Stella Maris "parishioners" move around the world, it is necessary that their pastors be in touch with one another. The World Congress held every five years, mandated by the Apostolatus Maris (Stella Maris) office, ensures this connection between countries and disseminates the pontifical council's policies.
The Maritime Mission
The mission of Stella Maris remains today as clear as a sailing ship's mast silhouetted against the rising sun: to reach out to seafarers, fishers, their families, all who work or travel on the high seas and port personnel. Seafarers are often away from their home parishes, and some seafarers have no parish setting to help them maintain lasting ties with their faith and families. A network of Stella Maris port offices and Catholic chaplains establishes a parish that accommodates a seafarer's unique lifestyle and needs.
Around the world, Stella Maris assists seafarers to meet their basic needs: a genuine welcome, spiritual renewal, a safe haven while in port, a safe work environment, a just contract, communications with loved ones back home and a few hours of recreation.
 
Challenges to Mission
The fulfillment of a seafarer's needs is challenged today by technological advances in the maritime industry, namely containerization, specialty ships such as car carriers, immense crude oil tankers, and cruise ships with their extremely large multi-national crews. Seafarers working aboard today's ships no longer count their time in port in days but in hours.
 
The Chaplain: Servant at Sea
Most Reverend Brendan J. Cahill - Bishop Promoter
Most Reverend Brendan J. Cahill, Bishop of the Diocese of Victoria in TX, was appointed Stella Maris Bishop Promoter in February 2017. There is an active seaport in Victoria at Point Comfort and two large fishing villages in Palacios and Port Lavaca.

National Director
Sr. Joanna Okereke - Stella Maris National Director of the United States
Sr. Joanna Okereke, HHCJ, is a Sister of the Handmaids of the Holy Child Jesus. She was appointed National Director of Stella Maris in February 2015. She has extensive experience in pastoral care programs for refugees, migrants and people on the move.
 
For More Information
Stella Maris
3211 Fourth Street, NE
Washington, DC 20017-1194
Phone: 202-541-3359
Email: Stellamaris@usccb.org