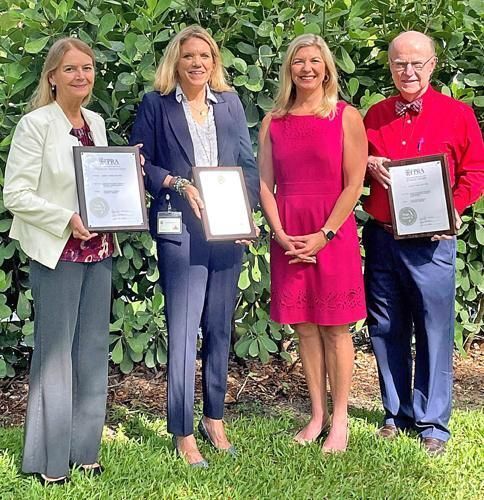 PORT ST. LUCIE  |  The Diocese of Palm Beach was recently recognized with three awards for a successful promotional/marketing campaign by the Florida Public Relations Association (FPRA) Treasure Coast chapter. The award-winning campaign promoted the 2022 Diocesan Services Appeal. 
On April 26 at the Port St. Lucie Botanical Gardens, with more than 60 FPRA members and guests attending, the diocese received an Award of Distinction, Judges Award, and an Image Award in the category of promotional/marketing. Image Awards are presented to the highest scoring entries in each division; Awards of Distinction are given for entries that meet the standards of excellence set by the panel of judges; and Judges Awards recognize outstanding entries that achieve maximum results, using a minimal amount of money. 
The annual diocesan appeal is a fundraising drive that launches in January, providing operational funds for the diocese along with 47 other local offices/ministries. All parishes and missions are given a donation goal to reach, and the diocesan Office of Communications provides promotional materials to aid them in reaching that goal. 
Jennifer Trefelner, diocesan director of communications, was asked in October 2021 to take on additional responsibilities as director of development, overseeing the DSA. After accepting the dual role, she realized the need to update and improve DSA communications, marketing materials and processes.
"It has been an honor to serve Bishop Gerald M. Barbarito, our staff and the faithful in the Diocese of Palm Beach as both the director of communications and development for the last nine months, and I look forward to continuing to grow in this role," Trefelner said. 
"I have a strong background in development work and am enjoying using those skills in tandem with our communication efforts," she added. "I am so grateful for the professional, enthusiastic, hard-working and faith-filled teams we have in place in both the development office and the communications office; they are true gifts to me and our diocese." 
During the last three months of 2021, Trefelner and her communications staff began developing new materials to help the parishes and missions communicate the work accomplished through DSA support. The goal was to inform and instruct DSA bookkeepers and coordinators on how to utilize the new marketing tools.
The DSA materials included a video featuring Bishop Barbarito in English with versions translated into Spanish and Creole, and an updated manual to help bookkeepers and coordinators do their tasks. Other efforts included new digital graphics and videos to use on social media and in parish bulletins, along with articles in the Florida Catholic to help potential donors understand the good works that their money supports.
"We began building a comprehensive communications plan for our parishes to utilize for their efforts to promote the DSA in October," Trefelner said. "Our team began hosting regularly scheduled Zoom meetings with DSA contacts and coordinators at each parish, which allowed us to learn what their needs were and plan accordingly."
"In addition, I had the pleasure to visit the pastors at deanery meetings and using everything we learned to create data-driven initiatives to support them and our faithful," she said. "Within just a few months, we were able to create a comprehensive multimedia package for the parishes, and have been providing updated packages each month for them to utilize."
The ongoing DSA campaign has seen a significant increase in participation and level of giving by donors, with lower costs involved since most of the marketing work was accomplished by diocesan staff members.
"The ROI (return on investment) from this project included tangible and intangible benefits," according to the Image Award entry. "The relationships created between the DPB (Diocese of Palm Beach) and the parish bookkeepers/contacts have grown significantly through Zoom feedback session and emails. The new materials created from data-driven analysis are so popular with the parishes that new collateral is being made each month. This project has been a blessing to so many."
The FPRA Treasure Coast Chapter is one of 15 across Florida, comprising more than 1,000 members statewide. FPRA members serve in private and public corporations, government entities, nonprofit organizations, and agencies, all with the goal of enhancing the public relations profession through ethical and standardized best practices.
For information on the diocesan Communications Office, visit https://www.diocesepb.org/ministriesoffices/offices/communications/. For more about the FPRA, go to www.FPRATreasureCoast.com.
To read this story and others in Florida Catholic, click here.