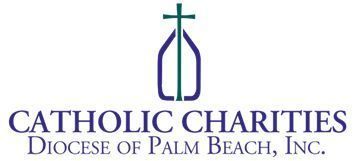 BOYNTON BEACH  |  The Birthline/Lifeline Pregnancy Care program of Catholic Charities, which offers free services to women facing an unplanned pregnancy, is seeking volunteers with various skills. Orientation sessions are scheduled at both locations, 212 E. Boynton Beach Blvd. in Boynton Beach and 3115 45th Street in West Palm Beach.
Volunteer tasks include direct client positions, helping to sort and pick up donations, computer work, fundraising and more. 
The orientation sessions will be at the Boynton Beach site July 8 and 29, Aug. 26, Sept. 2 and 23, Oct. 7 and 28, Nov. 18 and Dec. 2. The West Palm Beach sessions will be July 18, Aug. 22, Sept. 12, Oct. 17, Nov. 7 and Dec. 12. 
Birthline/Lifeline also manages a prayer chain for people to pray that women who are abortion-minded or undecided and those who are making adoption plans choose life for their unborn children. 
Volunteers are needed to pray for specific people and situations. The helpers are given a first name (aliases are used to protect confidentiality) and a brief description of the prayer intention. 
They include the person and situation in their daily prayers. Periodically and when available, updates are sent out as to the outcome of each person's situation. 
Anyone interested in joining the prayer chain can contact Margarita Duncan Vanegas at mvduncan@ccdpb.org or 561-732-0570.
One of Birthline/Lifeline's ongoing needs is financial support, which is crucial to ensuring that the pro-life program is able to continue its lifesaving, life-affirming mission to save moms, dads, and children from the evil of abortion and build a culture of life in local communities. Visit https://www.ccdpb.org/get-involved/donate.html to donate. 
If you have any questions about the work of Birthline/Lifeline, contact Katherine Bowers, program director, at kbowers@ccdpb.org or 561-732-0570. For information about the programs of Catholic Charities in the Diocese of Palm Beach, visit www.ccdpb.org.  
To read this story and more stories like this in Florida Catholic, click here.