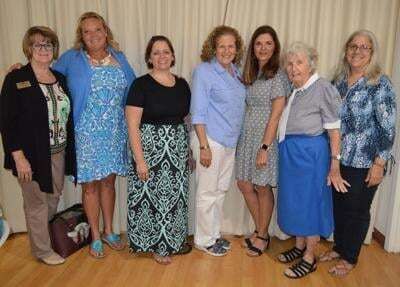 PORT ST. LUCIE  |  Local pro-life advocates seeking updates on issues and organizations attended the first of four regional meetings July 31 at Holy Family Parish in Port St. Lucie. 
Led by Deanna Herbst-Hoosac, Respect Life director for Catholic Charities, the sessions are an opportunity for those actively involved with pro-life ministry at parishes and other programs to learn how the landscape is evolving since the U.S. Supreme Court's June 24 ruling giving authority on abortion regulation back to the states.
Since current Florida law limits abortion to 15 weeks of gestation or earlier, she said the need to assist women who might be leaning toward abortion has increased.
"Those moms 15 to 24 weeks who are not able to get an abortion here are going to need help," Herbst-Hoosac said. "Also, the states that have banned and restricted abortion surrounding Florida are going to be sending moms here. 
"Abolishing abortion in Florida will take putting feet to our faith. So, that's where Walking with Moms is going to come into play," she added. 
The U.S. Conference of Catholic Bishops is promoting the campaign called Walking with Moms in Need that is addressing urgent demands for practical support, such as baby diapers, clothes and formula, along with things like grocery and gasoline gift cards and assistance with rent and utilities. Catholic Charities of the Diocese of Palm Beach – with its full range of programs to help those in need – is positioned to address the current challenges.
Besides her office, Herbst-Hoosac said, other Catholic Charities programs also serve pregnant women in need, including the Birthline/Lifeline Pregnancy Care Centers; Women's Pregnancy Solutions mobile units that offer testing, ultrasounds and help with options; Bakhita Empowerment Program, which combats human trafficking; Samaritan Center for homeless families in Indian River County; Hunger Homeless Outreach; Immigration Legal Services; and Rachel's Vineyard for post-abortion healing.  
"This program is walking with the moms along their journey," she said. "They may produce other ideas at the pregnancy care centers. This is where I'm reaching out. I want to make sure that all 54 parishes and missions have the information."
Katherine Bowers, program director of Birthline/Lifeline Pregnancy Care Centers, explained the free  services offered to women at their locations in Boynton Beach and West Palm Beach, including pregnancy tests, ultrasounds, counseling, material assistance, parenting classes and baby clothes up to size 3T.
"We serve women who are abortion-minded. We want them to change their mind. We want to educate them," she said. However, "The vast majority of the women we serve are not abortion-minded, but they just need support. They're happy that they're pregnant, but they don't have people in their lives to help them to make the best decisions, to make the good choices for themselves and for their children, for their families."
Most Birthline/Lifeline clients aren't getting accurate information from the general culture, she said. They're misled about fetal development and healthy options available to them. Even nursing students aren't always aware, Bowers added, which is why Birthline/Lifeline invites future nurses to visit their centers.   
"It's very unfortunate, but nursing students nowadays don't understand when life begins. Or about abortion, or about birth control," Bowers said.
"It's a wonderful way for us to help to change the culture. So, Birthline/Lifeline is about saving babies, helping moms, that sort of thing, but we're really about changing the culture, whatever that entails," she said.
Bowers acknowledged that her program's offices may not be convenient for clients in the Port St. Lucie area, "but we are excited about the opportunity with Catholic Charities to reach out to women in the Fort Pierce area. Wherever God opens those doors, we're open to follow it and walk through those doors. We really want to help women in need."
Thanks to the donation of a building at 1119 Delaware Ave. in Fort Pierce, Catholic Charities is set to open an office there, with a ribbon-cutting and blessing service planned for Friday, Aug. 26, at 11 a.m.
Other speakers at the meeting represent other local pro-life programs, including 40 Days for Life, Care Net of Treasure Coast, The Gabriel Project and Mary's Home.
The other sessions in this series of meetings are set for Sunday, Aug. 21, at St. Anastasia Parish in Fort Pierce; Sunday, Sept. 11, at Cathedral of St. Ignatius Loyola in Palm Beach Gardens; and Saturday, Oct. 15, at St. Vincent Ferrer Parish in Delray Beach. 
For more about the programs of Catholic Charities, visit www.ccdpb.org. The Catholic Charities hotline number for assistance is 561-345-2000. Contact Deanna Herbst-Hoosac at dherbst@ccdpb.org or 561-360-3330. Access the Walking with Moms in Need website at https://www.walkingwithmoms.com/.
To read this and other stories in Florida Catholic, click here.