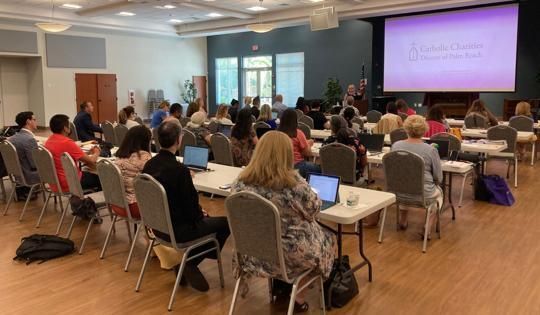 PALM BEACH GARDENS  |  Most of the Diocese of Palm Beach's parish personnel involved in communications (bulletin editors, website administrators, priests and development officials) gathered Aug. 24, in the Cathedral of St. Ignatius Loyola's Family Life Center in Palm Beach Gardens for an informational strategy meeting, led by Jennifer Trefelner, diocesan director of communications and development.
The main goal of the meeting, which is held quarterly and has been via Zoom since the pandemic, is to help parishes take advantage of technology and diocesan initiatives to effectively communicate with the faithful.
Several other diocesan officials spoke about their offices, including Father Duván Bermudez, head of Hispanic ministry; Father Daniel Daza-Jaller, director of vocations and seminarians; and Ellen Wayne, CEO of Catholic Charities. The attendees also heard from Melanie Wiles and Jarret Romanello of St. Anastasia Parish on how to build a parish media ministry team. A representative of Flocknote, a church management system, also addressed the meeting via Zoom.
Father Albert Dello Russo, diocesan chancellor, visited the meeting to thank the communicators for their hard work and for attending the meeting.
"I am so grateful for the support and enthusiasm from the parish staffs as we work together in support of our common mission. The post-event surveys from the most recent meeting were so positive and the comments were filled with gratitude for our efforts to provide these professional development sessions," Trefelner said.  
A similar meeting for school communication specialists was to be Aug. 31 at the same location.
To learn more about the Office of Communications, visit  https://www.diocesepb.org/ministriesoffices/offices/communications/.
To read this and other articles in Florida Catholic, click here.