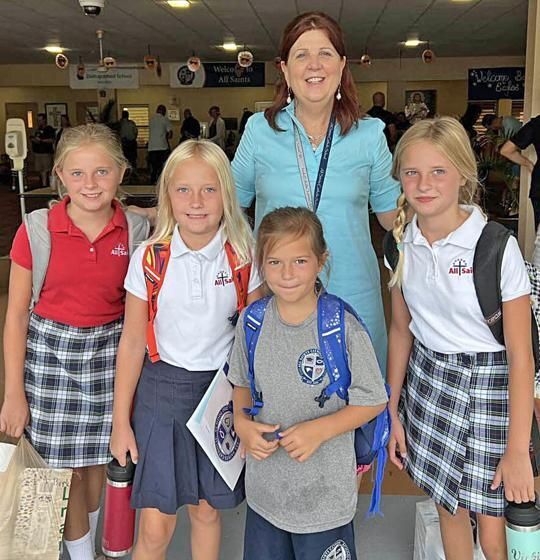 This is Part 1 of an ongoing series of articles spotlighting the principals who are leading Catholic schools in the Diocese of Palm Beach.
JUPITER  |  Being an educator is Jill Broz's second career, but even her first career was involved with schools – of fish, that is.
After earning an undergraduate degree from McGill University in Montreal, Canada, and a master's in marine biology from Memorial University in Newfoundland, she worked several years for the Canadian government on fish stocks, management and technology.
"One of the parts I always loved about my career in marine biology was helping those learn how to do things. So, I think I've always been a natural teacher and educator," said Broz, who just began her 11th year as principal of All Saints School in Jupiter.
Her job in Newfoundland was teaching commercial cod fishermen to farm fish, raising undersized cod in sea pens until they are ready to harvest. Being a young woman, trying to educate older, more experienced men to become farmers, was "intriguing," she said.
"They tested me. Like when I'd go on the outboard engines and they'd take out spark plugs and see if I could start the engine," Broz said. "They would make fun of me. They'd make me carry things. But then, as soon as I gained their trust, their wives would make sweaters for me and bring me things. Just a beautiful group of hard-working people."
She added that the challenging experience gained her "a lot of inner strength."
Later, after moving to the Bahamas, Broz met her husband, who was born and bred in West Palm Beach. Thirty years ago, they were married at Sacred Heart Church in Lake Worth and settled in the area. She was eventually hired to teach middle-school science classes at St. Vincent Ferrer School in Delray Beach, later becoming assistant principal.
As someone with a marine science background, Broz said she tried to focus on hands-on application in her science lessons.
"I often say to my students, 'I don't want to hear that science is too hard for you because it is the real world. When you go to the doctor, you need to understand things. When you've got environmental issues, you need to understand the science behind them,'" she said.
From St. Vincent Ferrer, Broz became a teacher and dean of students at Cardinal Newman High School in West Palm Beach. She credits a master's specialist degree program in Catholic education leadership at Barry University with helping her and others advance their educational careers. The program prepared her to take the helm at All Saints School, she said.
"We're a unique school. We're not one parish, one school. We're an inter-parochial school, so there are six parishes that support us," Broz said. "I have a board of six pastors that makes decisions."
One of those six pastors, Father Donald Finney of St. Peter Parish in Jupiter, serves as pastor moderator, or lead pastor, for the school. He calls Broz a tireless worker dedicated to All Saints' students.
"She's out there in the morning greeting all the students as they come to school," he said. "She sees them in the hallways and knows all of them by name. She fills in in the classroom when a teacher is out. She knows the whole operation, not just the administration and the office, but the classrooms and the students."
"I think she's really great at making sure there is a strong Catholic identity in the school," Father Finney added.
When she was hired, Broz was told that boosting the use of technology was a high priority at All Saints. The school shifted to giving iPads for all students to use, achieving status as an Apple School of Excellence and thus preparing children for the new work environment, Broz said.
"People say there's too much computer technology, but it's here to stay. And my focus as an administrator in our school is to not use it as 'Let's play games when you've done your work.' It's a critical tool for collaboration and creativity. We just used some federal funds to build a whole STREAM lab," which focuses on science, technology, religion, engineering, arts and mathematics, she said.
The STREAM lab is directed by a "facilitator" instead of a teacher, she said. When students ask the facilitator, "'How do I do this?' she's going to come back and say, 'How do you think you should do it?' Or 'Where can you get help to figure out your questions.' And I think that's going to really raise the bar of thinking and problem solving at our school."
The concentration on computer use helped All Saints weather the COVID-19 storm, which Broz called "the biggest challenge of my career." The school was able to easily transition to home learning, she said. But she admits to being concerned about the social-emotional toll that the pandemic took on students.
"We're working pretty hard last year and this year to introduce some social-emotional learning to get us back to feel strong," Broz said. "It's that premise that you are a gift from God, you are important, you were created perfectly. And with that, know that you are loved, but with the responsibility of treating others with love and respect because everybody's a child of God."
Along with a focus on technology, she said, All Saints believes in keeping its 465 students physically active, which is why the school raised money for a synthetic turf field that is used often.
But the main reason for All Saints' efforts the past 22 years is to instill the faith and values that Catholic schools are called to embody, Broz said.
"We are a Catholic school, centered on the Gospels and Jesus and the saints as our models, and that's at the forefront," she said. On first Fridays, students from pre-K4 through eighth grade spend time in Eucharistic adoration.
"We are blessed at this school, that when it was built, we got the bishop's permission to have a chapel with a tabernacle, so Christ is present in our school every day," Broz said. And she is a constant witness to the effects that the Real Presence has at her school.
"One of the most important comments that came out of our last accreditation is that when the team visiting for accreditation interviewed our parents, some of the parents said that their children had evangelized them and brought them back to the church," she said. "We are doing something right. It's a community, but our faith is standing out."
For fun and relaxation, Broz cooks at home and attends school athletic events, often with her husband and older daughter, who is mentally disabled and is active in Special Olympics.
Being a principal is a demanding job, Broz said, with long hours at school and at home. She credits the faculty and staff at All Saints for their commitment to education. "They truly love the children. You can't be in this profession right now and not love children," Broz added.
"We're really blessed by the creators of All Saints with the mindset to have a leading school in the Jupiter area, a faith-filled school, high academic and just a ton of resources for children. It's really a beautiful school, and we're all blessed to be here."
For more information on All Saints School, visit https://www.allsaintsjupiter.org/ or call 561-748-8994. To learn about all schools in the Diocese of Palm Beach, go to https://www.diocesepbschools.org.