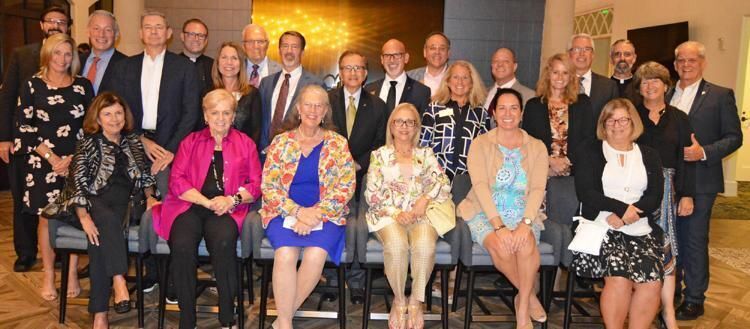 JUPITER  |  Part of the speaker's message at a Sept. 15 dinner of the Jupiter/Palm Beach chapter of Legatus was a bit prophetic for its mention of storms, a week before a hurricane took aim at Florida.
"The Lord is the one who gives us our sense of hope in dark times," said author Kimberly Hahn, the speaker for the evening. "The early Christians depicted hope with an anchor, and in the storms of life, when the boat of our spiritual life feels like it will capsize under the relentless waves of financial challenges, strained relationships or loneliness, political unrest and overall stress, Jesus says what he said to his disciples just before he left, which is from John 14:27: 'Peace I leave with you; my peace I give to you. Not as the world gives do I give to you. Let not your hearts be troubled.'"
The dinner was held at the Jupiter Country Club and began with praying of the rosary, confessions and Mass celebrated by Father Frank D'Amato, the local Legatus chaplain and parochial vicar at St. Jude Parish in Tequesta.
Hahn, who spoke the next morning at the Cathedral of St. Ignatius Loyola, centered her dinner talk on the hope Christians have in the Lord. "Jesus says to have hope, and that's not a wish for better circumstances, but a confidence in his presence and in his power, to be able to honor him with our lives in what we say, do and think today in the midst of our circumstances."
Legatus, an organization for Catholic business executives and their spouses, is in the midst of a membership drive. As stated on the Legatus website, member benefits include: spiritual and professional support at chapter and national meetings, retreats, webinars, pilgrimages and special gatherings, and fellowship among other Catholics with like-minded values.
Members are encouraged to commit to attending Mass and praying the rosary every day, and receiving the sacrament of reconciliation monthly.
"There are many important ministries that support those in need, yet Legatus is unique in the fact that it is the leading organization ministering to those who carry a certain amount of influence in the business world," the organization's website says.
Other member benefits include concierge health care through Healthnetwork, university and college discounts, a monthly subscription to the Legatus magazine, and personal access to a private platform where members' children and grandchildren can connect with mentors, internships and other opportunities.
The membership chair of the Jupiter/Palm Beach chapter is Erin Nickler, who said, "It truly is a special organization," said Erin Nickler, membership chair of the Jupiter/Palm Beach.
To apply for Legatus membership, applicants must meet certain criteria, such as being a Catholic in good standing; holding the top position at a qualifying company, subsidiary or division (chairman, president, CEO, managing director, division head, owner); with at least 40 employees or a payroll of $1.5 million; and revenue of at least $8 million, or $2 million for financial or commission-based client services. Potential members can apply on the www.Legatus.org website or contact their Legatus affiliate. Contact Erin Nickler at ekaynick@bellsouth.net.
To read this and other stories in Florida Catholic, click here.