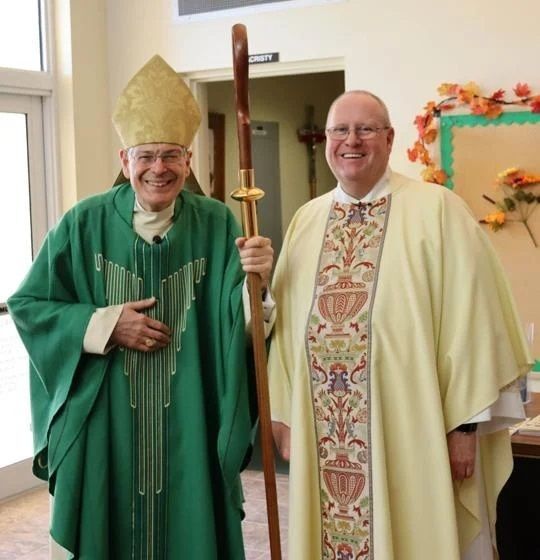 BOYNTON BEACH | Father Bob Benko brings a wealth of experience with him to St. Mark Parish in Boynton Beach, where he was installed Oct. 23 as pastor by Bishop Gerald M. Barbarito. As this is his fourth assignment as pastor, he has gained the wisdom to know that every parish is unique and has its own opportunities.
"I've been learning all the way that what works in this place may not work in that place because every parish has its own personality," Father Benko said. "You have to figure out as pastor how to not let people be stuck where they are, but to build on their strengths and to move forward. Each place is really different."
A member of the Franciscan Friars Conventual of Our Lady of the Angels Province, based in Maryland, he has led parishes in New Jersey, North Carolina and Georgia. When he was asked his preference of locations for his next assignment, he requested Florida, which would mean either at St. Mark or St. Lucie Parish in Port St. Lucie, both staffed by his religious order.
Father Benko was able to meet with Father Dan Fink, the previous pastor, to receive information and ease the transition to the parish.
"What I found, from the moment that I walked in, the people here have been super open to everything," he said. "A lot of times you get to places and they go, 'Oh, Father, this is the way we've always done it.' But they haven't been like that here. They're very open to new things. They've been extremely welcoming and supportive."
He said the bishop told him the parish has always been very family oriented. "The camaraderie, the feeling of family among the parishioners here at this parish was something that he always liked about St. Mark's, and I'm finding that to really be true," Father Benko added. One of his first priorities, he said, is to start moving past the COVID-19 pandemic and plan events to bring parishioners together. Meetings are being scheduled so he can learn about each ministry and present his vision for the parish.
Since the majority of St. Mark's parishioners are older, there are many more funerals than baptisms, Father Benko said. In light of that, he has been impressed with the parish's ministry of consolation, directed by Franciscan Sister Mary Joan Millecan.
"She has assembled a great team for funeral ministry and bereavement ministry," he said. "I have to say there are a lot of people involved in it and the families are very well taken care of. If someone calls to say that somebody died, they're on the phone with the family, they're out to visit the family. Everything is very well organized."
Another aspect of the parish is its many cultures, representative of the Boynton Beach community. The congregation at Sunday Masses reveals a healthy mixture.
"I love it because I've spent 22 years now with Hispanic ministry. I like to see when the cultures mix and mingle and try to do things together," Father Benko said.
The job of pastor is a new adventure every day, he said, adding that all five buildings on the St. Mark campus need attention. Father Benko just signed a contract to revamp the sound system in the church, where the interior lighting has been improved. In a recent bulletin, he jokingly said that he wanted to write to his seminary professors and say, "'Oh, you left out a bunch of stuff,' because somedays I don't know if I'm going to wake up and be a plumber or an electrician or take out the trash or do confessions."
Father Benko said he is pleased to be "a distributor of God's grace" in Boynton Beach.
"God has put me here at this time in my life, so I use the skills that I've developed over the years in all the different parishes, to bring that here, and hopefully the people will respond — and they are responding," he said.
"Having been a pastor in the north and here in the south, there is a big difference in the Catholic culture between the north and the south. I really don't want to go back north again," he added. "I really feel that the church is alive and well and growing down here. So, I'm happy to be a part of that."
For more information on St. Mark in Boynton Beach, visit www.stmarkboynton.com or call 561-734-9330.
To read this and other stories in Florida Catholic, click here.