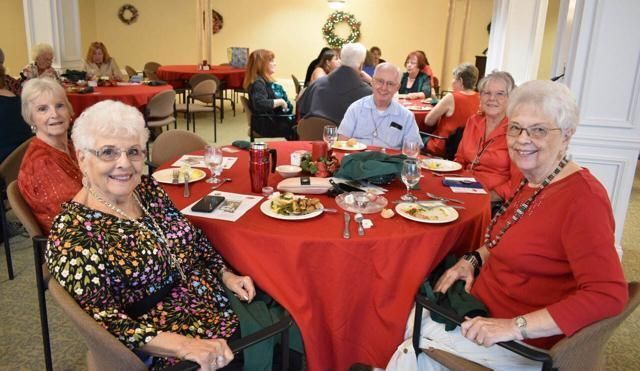 PORT ST. LUCIE | Members of the Council of Catholic Women shared their joy and camaraderie with one another during the Advent season Dec. 7, 2022, at the Holy Family council's annual Christmas luncheon at Harbor Place in Port St. Lucie.
"This is a time to put aside the work and just enjoy each other's company and to enjoy our sisterhood," said Doreen Recco, president of the Palm Beach Diocesan Council of Catholic Women. "We do good things in the diocese and in each individual deanery, and we hope to continue to do good things."
Conventual Franciscan Father Curt Kreml, parochial vicar of St. Lucie Parish and the council's Northern Deanery spiritual adviser, expressed his appreciation for the organization's unending works of service.
"They do great things for the church. Their deep spirituality comes to the aid of people in need. They give great witness to the Gospel, living the Gospel," he said. "We ask God to continue to inspire you in being his faithful disciples, and we pray that the Holy Spirit deep in your hearts would continue to empower you to bring the love of Christ to all the different people that you serve with your many, many projects and activities."
Pat Carol, Holy Family council president, welcomed everyone, saying, "This would be our 36th Christmas luncheon if it had not been for COVID, meaning we are into our 36th year as council."
She pondered about the crosses that some council women have experienced this year. "Some of us here have been through some trying and emotional times," she said. "It has been a test of faith. It is how we come together to help each other during these trying times."
Guest speakers Reggie Murray and Barbara Pray focused on council projects that help the needy, including the Florida council's project that began six years ago, Hugs for the Homeless, and Holy Family's Adopt an Angel program that began in 2013 by giving gift bags to needy children at Christmas. Many of Florida councils collect donations for the homeless, and Recco said the Diocese of Palm Beach is the biggest contributor to the Hugs for the Homeless project.
"Many people just think of homeless people as men who are either down on their luck or who choose the street lifestyle. What most people do not realize is that the majority of homeless people are women and children," Murray said. "Have you seen the face of Jesus lately? His face can be seen in the faces of the homeless, if we look hard enough."
Pray said that she saw a need in 2013 to help homeless and needy children in Port St. Lucie. That is when she started the Christmas gift program at Holy Family, now called Adopt an Angel, encouraging parishioners at Christmas to donate a gift bag. Each bag contains a pair of socks, underwear, sneakers and now a Walmart gift card.
"We had a wonderful bumper crop of children this year — 233 children received Angel gift bags, and 27 more received a gift bag plus clothing and toys. That's a total of 260 children," Pray said. "God is good to us that we have the resources to provide for the children. As someone said to me, 'You don't always remember what you got for Christmas, but you will always remember the year you got nothing.'"
Carol ended the luncheon by saying, "I, like all of you, want to really enjoy this season of Advent and renewal. My wish for all of you is that it will be a season of faith, hope and love. God bless all of you."
For more information on the Holy Family Council of Catholic Women, call 772-335-2385. To learn about Adopt an Angel, call Barbara Pray at 772-398-1357. To find a Council of Catholic Women group near you, email pbdccw@gmail.com or visit https://pbdccw.org.
To read this and other stories in Florida Catholic, click here.