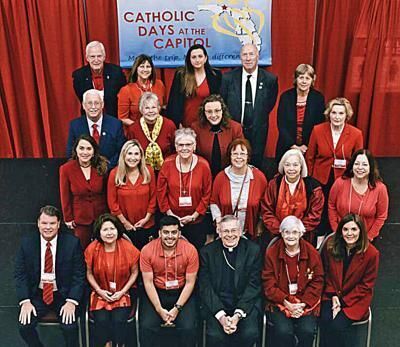 PALM BEACH GARDENS | Catholic Days at the Capitol, an opportunity to view the legislative process in action in Tallahassee, advocate for policies that promote human life and dignity, and pray for elected leaders, is scheduled for Tuesday through Thursday, March 7-9.
The 2023 activities, sponsored by the Florida Conference of Catholic Bishops, will include: a legislative briefing; meetings with lawmakers; an awards breakfast for Catholic Days participants, bishops and legislators; taking of group photos; and the annual Red Mass of the Holy Spirit to pray for those working in the legislative, judicial and executive branches of government.
The homilist at the Red Mass at the Co-Cathedral of St. Thomas More, 900 W. Tennessee St., Tallahassee, is set to be Bishop Eric Pohlmeier of the Diocese of St. Augustine. Plan to wear red that day.
A bus will pick up passengers bound for Tallahassee Tuesday, March 7, at three locations. The bus will depart at 5:45 a.m. from St. Vincent Ferrer Church, 840 George Bush Blvd., Delray Beach; 6:45 a.m. from the Cathedral of St. Ignatius Loyola, 9993 N. Military Trail, Palm Beach Gardens; and 7:30 a.m. from St. Bernadette Church, 350 N.W. California Blvd., Port St. Lucie.
The itinerary includes two nights at the Wyndham Garden Tallahassee Capitol hotel ($318, with one to four people per room), with Thursday continental breakfast, bus transportation and driver gratuity. There will be additional charges for the legislative briefing, Wednesday buffet breakfast and box lunch on the bus.
The registration deadline is Feb. 15, with no refunds issued after that date. To register, go to https://www.ccdpb.org/news/events.html/event/2023/03/09/catholic-days-at-the-capital-2023/406664.
For general information about Catholic Days at the Capitol, visit https://flaccb.org/cdac. For details about the Diocese of Palm Beach's involvement, call Deanna Herbst-Hoosac at 561-360-3330 or email dherbst@ccdpb.org.
To read this and other stories in Florida Catholic, click here.