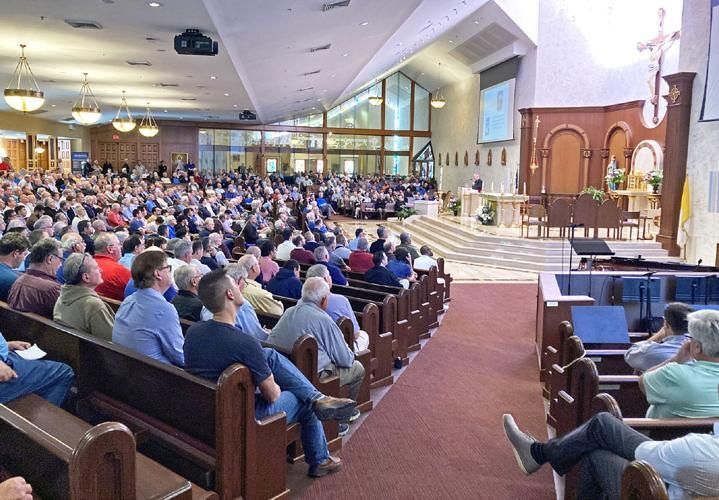 PALM BEACH GARDENS | Nearly 1,100 men attended the annual Men's Rally Jan. 28 at the Cathedral of St. Ignatius Loyola, with a special focus on sports and faith, sponsored by Catholic Men for Jesus Christ.
The rally featured two talks by Bishop Thomas Paprocki of Springfield, Illinois, an avid hockey goalie and marathon runner. Each talk was based on a book he has written, "Holy Goals for Body and Soul: Eight Steps to Connect Sports with God and Faith" (2013), and "Running for a Higher Purpose: Eight Steps to Spiritual and Physical Fitness" (2021), both published by Ave Maria Press.
He tries to connect faith with athleticism because "sports are so dominant in our culture today, even more so than when I was growing up. For some people, sports become a religion."
Other speakers at the rally were Matt Birk, former National Football League offensive lineman and center for the Minnesota Vikings and Baltimore Ravens; and film producer Jimmy Wahlberg. Bishop Gerald M. Barbarito, who attended the entire rally, presided at a closing Mass following lunch.
Jim Manhardt, organizer of the annual conference, said he was pleased to see so many men enjoying the talks, praying, singing, and going to confession and Mass.
"We suffered significantly with the pandemic," he said. "For many years in a row, we had 1,100-plus. We were limited to 250 during the pandemic. We're working our way back, and regardless of the numbers, from my perspective, today's a wonderful day for Catholic men. Great fellowship, smiles on the guys' faces, wonderful talks."
For more information about Catholic Men for Jesus Christ, visit www.catholicmenforjesusflorida.com.