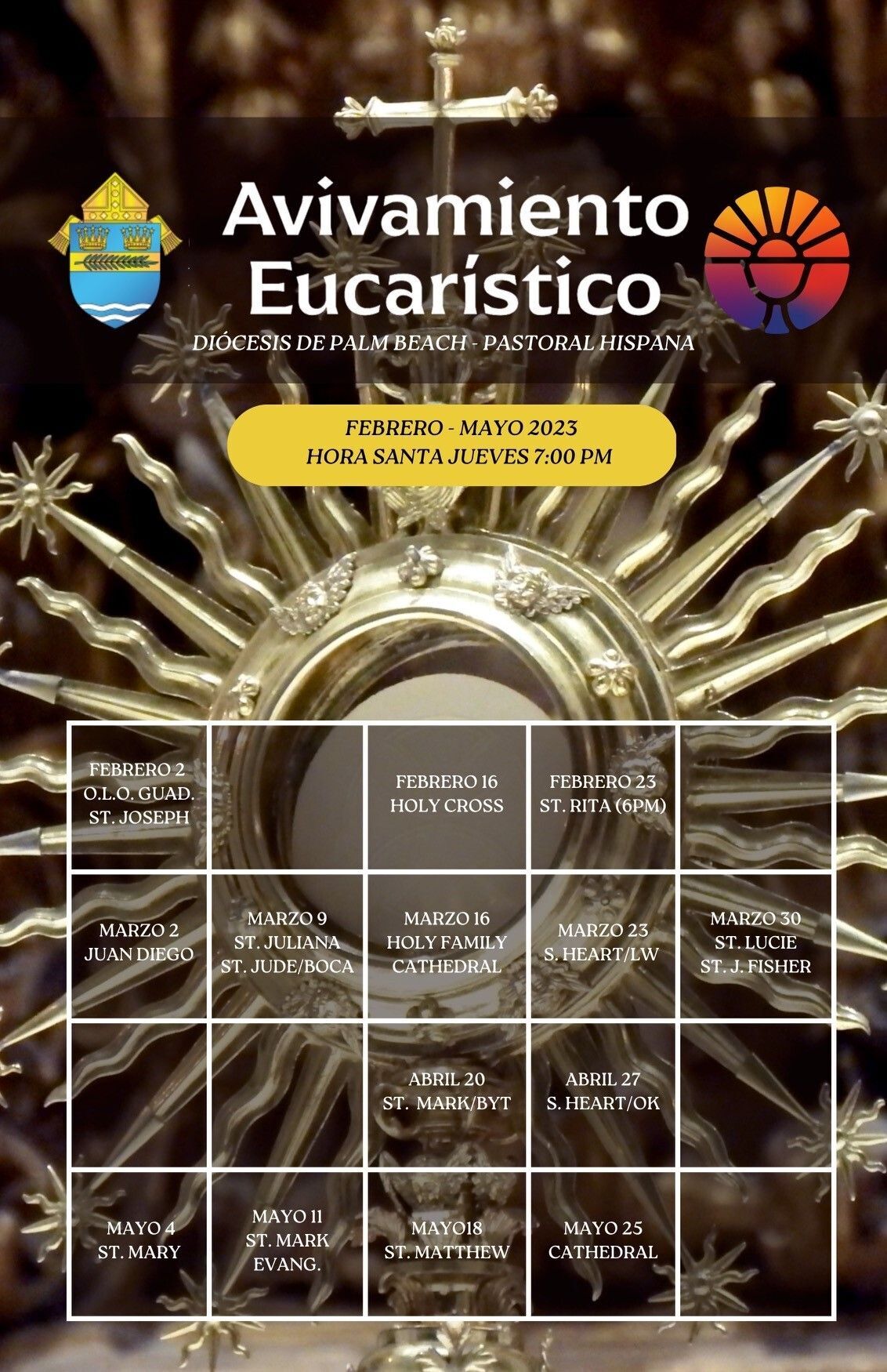 PALM BEACH GARDENS | The Office of Hispanic Ministry will present a series of 18 Thursday evening Eucharistic holy hours from February through May at parishes throughout the Diocese of Palm Beach. Each prayer service will begin at 7 p.m., in Spanish unless noted otherwise.
The series is to answer the call of the U.S. Conference of Catholic Bishops to initiate a National Eucharistic Revival "to restore understanding and devotion to this great mystery here in the United States by helping us renew our worship of Jesus Christ in the Eucharist," according to the conference.
The schedule of holy hours is:
• Feb. 2, at Our Lady of Guadalupe Mission, 12896 County Road 512 in Fellsmere, and St. Joseph Parish, 1200 E. 10th St., Stuart.
• Feb. 16, Holy Cross Parish, 15939 S.W. 150th St., Indiantown.
• Feb. 23, 6 p.m., St. Rita Parish, 13645 Paddock Drive, Wellington, in Spanish and English.
• March 2, San Juan Diego Hispanic Pastoral Center, 401 S. 30th St., Fort Pierce.
• March 9, St. Juliana Parish, 4500 S. Dixie Highway, West Palm Beach, and St. Jude Parish, 21689 Toledo Road, Boca Raton.
• March 16, Holy Family Parish, 2330 S.E. Mariposa Ave., Port St. Lucie, and Cathedral of St. Ignatius Loyola, 9993 N. Military Trail, Palm Beach Gardens.
• March 23, Sacred Heart Parish, 425 N. M St., Lake Worth.
• March 30, St. Lucie Parish, 280 S.W. Prima Vista Blvd., Port St. Lucie, and St. John Fisher Parish, 4001 North Shore Drive, West Palm Beach.
• April 20, St. Mark Parish, 643 St. Mark Place, Boynton Beach.
• April 27, Sacred Heart Parish, 901 S.W. Sixth St., Okeechobee.
• May 4, St. Mary Parish, 1200 E. Main St., Pahokee.
• May 11, St. Mark the Evangelist Parish, 1924 Zephyr Ave., Fort Pierce.
• May 18, St. Matthew Parish, 6090 Hypoluxo Road, Lake Worth.
May 25, Cathedral of St. Ignatius Loyola, Palm Beach Gardens, in Spanish and English.
Father Duván Bermúdez, director of the Hispanic Ministry Office, will be present at most of the holy hours, except when there are two on the same night. In that case, Father Daniel Daza-Jaller, director of the diocesan Office of Vocations and Seminarians, will preside, at St. Joseph in Stuart, St. Jude in Boca Raton, the cathedral on March 16 and St. Lucie in Port St. Lucie.
Father Bermúdez emphasized that the holy hours are for everyone looking for a closer relationship and better understanding of Jesus in the Blessed Sacrament. Those who attend a holy hour will receive a booklet in Spanish and English.
"Every Sunday, we profess our faith and we say, 'I believe in one, holy, catholic and apostolic church.' My hope is that all people in our diocese and the United States come to recognize that we have a good treasure in our faith — Jesus. And we need to recognize that he's really present in the sacrament of the Eucharist," he said.
The booklet includes prayers for exposition of the Blessed Sacrament, a special adoration prayer and the Gospel reading from John, Chapter 6, verses 51-58, the Bread of Life discourse.
The priest's homily will invite people to recognize Jesus in the Eucharist, Father Bermúdez said. "This is the purpose for this Eucharistic revival that the bishops of the United States called for."
The revival is an effort to wake up Catholics to the reality of what they have in their faith. It's also a reminder of their responsibility to invite children, families and friends to partake of the Eucharist. Father Bermúdez said the purpose is very simple: to gather communities together around the Lord Jesus Christ.
The diocesan phase of the National Eucharistic Revival began in June 2022 and will continue until June 11, 2023, the feast of the Most Holy Body and Blood of Christ (Corpus Christi). During a parish phase, from June 11, 2023, until July 17, 2024, parishes will be urged to stretch their boundaries and deepen their commitments.
A National Eucharistic Congress is set for July 17-21, 2024, in Indianapolis. From that event until Pentecost 2025 will be a year of mission, with special missionaries sent forth to accompany those in need or at the margins, giving them the good news of Jesus' Real Presence.
For more about the work of the diocesan Office of Hispanic Ministry, visit www.diocesepb.org/ministriesoffices/ministries/hispanic-ministry/. To learn more about the National Eucharistic Revival, go to www.eucharisticrevival.org.